Marriage should be a joyous union of two people seeking to walk together in life. Marriage can actually be downright blissful when treated properly. In fact, there are Quotes for a Joyful Marriage that can help to remind and motivate us of just how important joy is within a relationship. 
Marriage turns a house into a home, instilling a strong union between a couple. Maintaining a joyous marriage and relationship is important to the way you interact.
When it comes to maintaining a joyful marriage, it does take some work. Because, let's face it, life isn't always easy and we can let the struggles of life interfere with our marriage if we aren't careful.
This is why it is important that you take the time to value your marriage and your spouse. Sometimes, especially during the difficult times, we need a reminder of how to be joyful in marriage.
This way a couple will learn to lean on each other rather than allowing foolish arguments and disagreements to interfere with your relationship.
These marriage quotes can help you find peace, contentment and joy in your marriage relationship.
This post contains affiliate advertisement links.
Get Inspired with 20 Quotes for a Joyful Marriage
If you need a reminder of how to maintain a joyful marriage, these quotes are sure to help. Just remember, marriage is about teamwork and respect but it is also about enjoying the little moments of life.
Marriage is a union, which means you should enjoy life together. This can't happen if you spend nearly all of your time apart. So be sure you purpose to spend quality time together. Get a year's worth of date night ideas so you can make the time to live your life together.
"Let the wife make the husband glad to come home, and let him make her sorry to see him leave."  – Martin Luther
"Ye are Blood of my Blood, and Bone of my Bone, I give ye my Body, that we Two might be One. I give ye my Spirit, 'til our Life shall be Done." ― Diana Gabaldon, Outlander
"There is nothing more admirable than when two people who see eye to eye keep house as man and wife, confounding their enemies and delighting their friends."  ― Homer, The Odyssey
Want to add a little spark back to your marriage?
Take my 5 Day Marriage Challenge and see how you can ignite the fire once again.
"People are weird. When we find someone with weirdness that is compatible with ours, we team up and call it love." – Dr. Seuss
"Every person on this planet goes through turbulent skies at some point.  But if your union has love, respect, faith and trust, you can protect your marriage from the turbulence of life." – Fawn Weaver
"Happiness (is) only real when shared." ― Jon Krakauer, Into the Wild
"The point of love in marriage is to support each other through the experiences whether good or bad." – Renée Aleshire Brown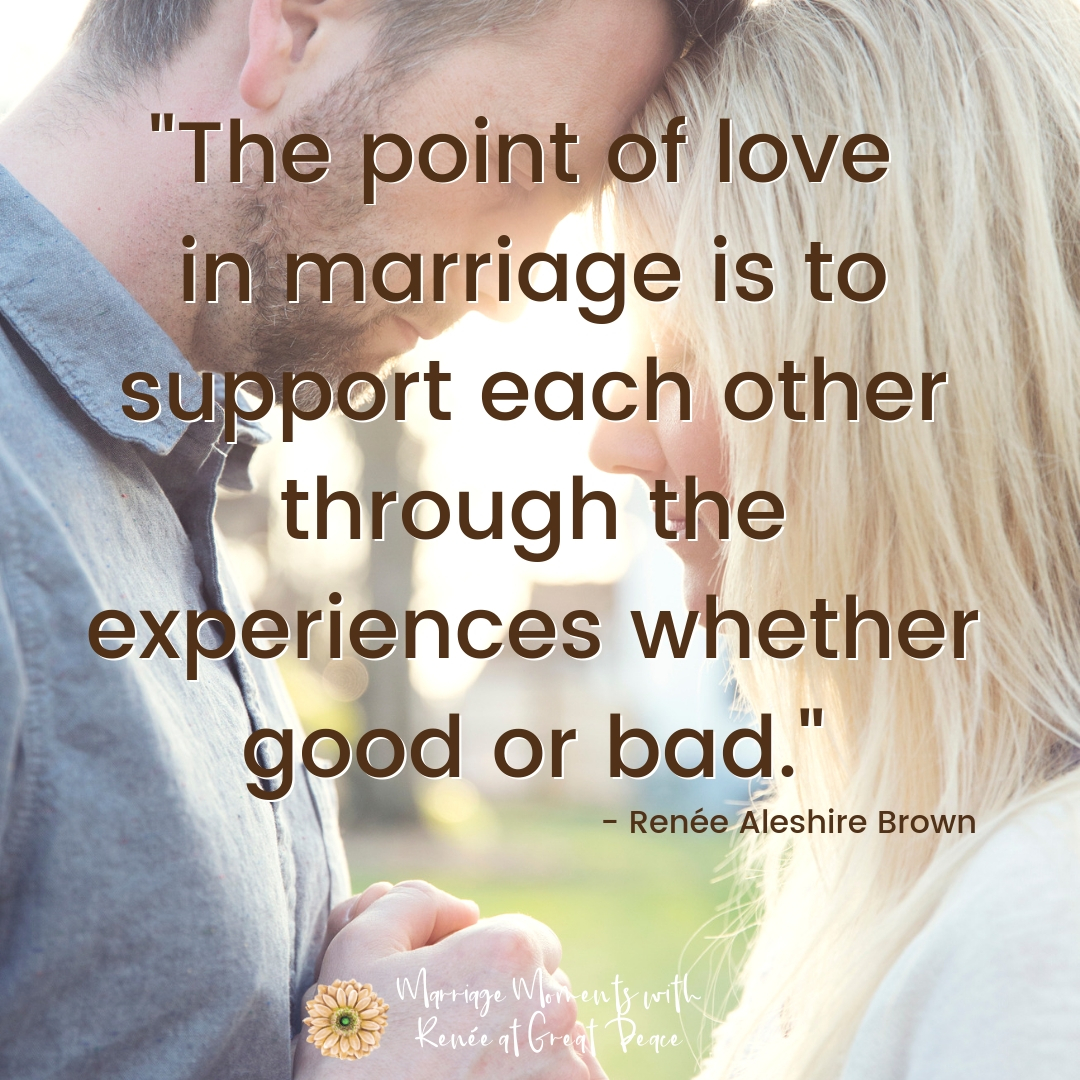 "The most precious gift that marriage gave me was the constant impact of something very close and intimate, yet all the time unmistakably other, resistant – in a word, real." – C.S. Lewis
"Where there is love, there is life." – Mahatma Gandhi
"For it was not into my ear you whispered, but into my heart. It was not my lips you kissed, but my soul." ― Judy Garland
"To get the full value of joy you must have someone to divide it with." ― Mark Twain
"Hear my soul speak. Of the very instant that I saw you, did my heart fly at your service." ― William Shakespaere
"I would rather share one lifetime with you than face all the ages of this world alone." — J. R. R. Tolkien
"The greatest marriages are built on teamwork. A mutual respect, a healthy dose of admiration, and a never-ending portion of love and grace." ― Fawn Weaver
"The highest happiness on earth is the happiness of marriage." — William Lyon Phelps
"In all the world, there is no heart for me like yours. In all the world, there is no love for you like mine." – Maya Angelou
"As difficult as it might be at times, we have the ability to choose our attitude at any time for the good. When someone gets under our skin, we can be impatient and vindictive or we can exercise the virtue of kindness." –  Darlene Schacht, The Virtuous Life of a Christ-Centered Wife: 18 Powerful Lessons for Personal Growth
"A good marriage is each for the other and two against the world" – Robert Brault
"Love is an act of endless forgiveness; a tender look which becomes a habit." – Peter Ustinov
Get even more marriage inspiration with these 50 quotes.
"Every heart sings a song, incomplete, until another heart whispers back. Those who wish to sing always find a song. At the touch of a lover, everyone becomes a poet." – Plato
When it comes to marriage, making sure to maintain the joy is incredibly important. These quotes for a joyful marriage will help to keep you on track, reminding you just how wonderful married life can be.
What is your favorite marriage quote? Share it with me in a comment below.
---
Don't miss these posts for a peaceful and joyful marriage.