Timeliness through Routine
I'm not really a late person. Generally speaking in my life, I like to arrive about 10 to 15 minutes before a scheduled event. My father was an early person. I mean, very early, if he wasn't early by 30 minutes or more to an event then he felt like he was late. I don't want to be too early, but I do not like be late.
This post contains affiliate ad links to products which may be purchased at external sites.
I was thrilled to hear that my friend's daughter, Davonne Parks, released a new e-book on October 1st. I've known Davonne for much of her life. I watched her grow from a young lady to a beautiful wife and homeschool mother who strives daily to honor God. I attended her wedding and the weddings of 2 of her brothers.
I count her mom as a friend and dear sister in the Lord, so when I ordered her book titled "28 Days to Timeliness, Tips and Confessions from a Semi-reformed Late Person" I thought it would be a great way to support and encourage Davonne. By the way, this is my first purchase of an e-book, I'm still a huge fan of paper books that I can hold in my hand, take with me wherever I want to go, and read while I take a long hot bath, but I digress.
I looked forward to reading this book thinking of how wonderful it would be to experience Davonne's voice in print. I did not imagine the books advice would be applicable to my life. I soon found myself chuckling because it wasn't very long before I began to see that there were many tips I could use in my daily life.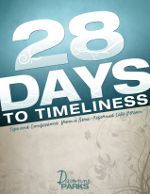 You see, while I'm not late for events scheduled outside my home I am often late with schedules and needful things inside my home. As a result I've discovered through Day 5 of this book that I'm in need of a regular routine. My home and life will run much smoother if I maintain a daily routine. From page 23 I have learned "As you discipline yourself to be on time, try to develop a consistent daily routine in addition to just getting dressed in the morning so you can be prepared for various situations." Oh what a great little tip.
I often thought, as did the author for a time in her life, that if I was staying home for the day I might as well just stay in my jammies. But, that often leads to rushing around last minute if I have forgotten that I had to be somewhere or needed to run to the grocery or various other things that arise in a day. Creating needless havoc, anxiety and stress in my day to day life.
Davonne also tells me on Day 6 to become the Manager of Time. As you know, I've been working really hard at becoming a better manager of my home, seeing that managing my time is paramount to managing my home, I've begun to create regular routines and schedules, tracking my daily activities, found on Day 9, so that I can then set up a daily routine.
I think more than any other, I will be referring back to Day 8 the most often. It is titled "Set Healthy Boundaries." Here she shows the importance of saying "No." She explains "If you can't commit to something without upsetting your normal schedule, give a simple, clear reply as soon as you're asked: "I'm so sorry but I won't be able to help with that at this time" is direct and polite."
Don't worry, she doesn't tell you to say "no" to everything. She does however advise that we often say yes when we know good and well we don't have time to do something, therefore making us over-burdened with responsibilities we shouldn't have taken on in the first place. Doing this is neither good for the person we are trying to help, our families or ourselves. She also shows that it is o.k. to schedule time to do for others, but also how to set limits on that time, so that we can move toward our goal of daily routines and being the manager of our schedule, thus making ourselves more "timely."
I've also learned that I really do need to drop some things from my schedule. Davonne says on page 44 about Day 13 "Often, having a lot to do can make us feel as if we're important or doing something really great, when in reality, we're just frazzled and aren't doing anything well." WOW, what a wake up call that was. The reality is I have been frazzled and most likely, I am not doing anything well. So as I go into routine and schedule making mode I will be keeping an eye out for things that I can legitimately cut out of my schedule. Thanks Davonne for that great tip!
In her no-nonsense book, Davonne shows some excellent reasons why people are often late, she goes on to give a solution, practical tips and a course of action to help you to overcome your untimeliness. From setting up routines to de-cluttering your home, she shows how it's often the little things that interfere with the big important things we should be doing in life, thus creating lateness.
This e-book is available through Amazon for Kindle users or as a pdf download version for only $4.99!