What's Cooking? It's Cabbage Rolls
This week I'm sharing a family favorite recipe for a New Years comfort food, Cabbage Rolls, in my newest feature on Great Peace Academy,
With the new year comes changes. This is true of many peoples lives. It is true of blogs as well. As you can see over the past several weeks I've made many changes to the look of the blog. My goal being to make it easier for you to navigate and explore my little home on the web. I've also made some decisions to regarding regular features here at Great Peace Academy.
Cabbage Rolls Recipe
Growing up my mom made cabbage rolls every year for New Years Day. I've repeated the tradition in my own home with my own family.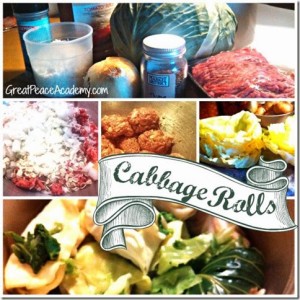 Cabbage Rolls
2015-01-02 20:28:43
Ingredients
1 Head of Cabbage
1 lb. Ground Beef
1 Small Onion, chopped
2 eggs
1/2 cup rice
1/2 cup oats
1/4 cup bread crumbs
1 tsp. salt.
1/2 tsp. pepper
1 tsp. Oregano
1/2 tsp. Thyme
2 Bottles of Tomato Juice
Toothpicks
Instructions
In a large pot add full head of cabbage cover with salted water, bring to boil. Let cook until cabbage becomes tender. Drain, cool down with cold water, drain. Gently peel about 12 –16 leaves from the head.
While cabbage is tenderizing, mix together, the meat, eggs, rice, oats, bread crumbs, and spices. Roll into 1 inch balls.
Once the cabbage is ready, place 1 ball in each leaf nearest the spine of the leaf, fold sides over the center, then roll forward. Use a toothpick to hold the rolled leaf together, it's best if you can pierce the spine of the leaf.
Layer rolls in large pot, cover with tomato juice, bring to a boil then reduce heat to simmer for about 1 hour.
Notes
Serve with a side of homemade bread or homemade cornbread.
Renée at Great Peace https://reneeatgreatpeace.com/