My son has always loved to draw. Which is why I always try to keep art supplies on hand for him.
From the earliest ages as soon as he could grasp a pencil he began drawing nearly everything he sees. For years we kept a stockpile of paper from office recycling bins. We had friends donate to us boxes, and boxes of office paper because he had an insatiable need to draw. He'd literally go through reams of it far faster than you can imagine. 
As if keeping him supplied in the paper was enough! The same is true of crayons, colored pencils, and pencils. He used them down until they were tiny little stubs. He still does, in fact. 
This post contains affiliate advertisement links.
He doesn't draw as much as he did when he was around 9, slowly he became aware of digital forms of art. He builds on Minecraft, and even uses a cad program or two. He puts his creative mind to work in digital form more often than not these days. 
Recently, I had an opportunity to review Sparketh an online work at your own pace art curriculum. It's superb by the way. Be sure to check it out if you haven't read it yet, just click on the word above. Taking that course has ignited his passion for art again.  
If you have an extra moment, I'd love for you to read the review if you haven't already done so. 
He's since begun drawing again. Only, this time, he's choosing other mediums besides colored pencils and crayons. He's exploring graphites, and
chalk pastels
, and even some acrylics. 
I know it's important to keep art supplies on-hand for him so that he can build upon each medium as he progresses. Not only is he doing the Sparketh lessons, he's exploring his own creative ideas as well. The other day he showed me a sketch and I knew right away… it was a self portrait, his first. 
Art Supplies for Creative Thinkers
1- Sketch Pad
When my son was little, any copy paper would do. But, now that he is older and developing his skills good quality sketch paper is what's needed. There is just a different heavier weight to the paper that makes sketching easier, especially when using graphite pencils, charcoals, chalk pastels and other mediums. They need a paper that has a bit of grip to them to hold art on the page. 
2- Sketching Pencils
Yes your child can use a regular old Ticondaroga pencil if that's all you've got. But graphite and charcoal sketching pencils allow the artist more freedom to draw wider, darker lines, or to have a lighter hand. They also can blend the shades together to create areas of light and dark. Truly, a creative artist will just know that the feel of the graphite, or charcoal on the page brings more life to the image they are sketching. It is truly worth any investment you put into the artistic education of your creative child when you see what they can produce given the right tool.
3- Pigma Micron Graphic Pens
These archival quality, quick drying ink pens, allow artists to quickly use blacklining techniques to give depth to a piece. These come in a variety of tip sizes which gives the artist more control over the overall feel of what they are drawing. No, I don't suggest using something else here. Because these are fast drying they won't accidentally smear their beautiful art.
4- Easel
Having an easel to put the art at eye level gives the artist a better perspective. It also helps them to not get a stiff neck looking down all the time. I purchased this art kit from Royal & Langnickel. It's made of quality construction. The carrying handle makes it easy to move, and everything stores neatly inside. Well everything that comes in the kit does… speaking of. This is a 104-piece set that includes acrylic, oil, and water-color paints, chalk pastels, colored pencils, a couple of graphite pencis, charcoals, brushes, palette, and more.  And, it's a great price too!
5- Canvas
Even if your little artist is into sketching more than painting it's a good idea to keep canvas on hand and have them give a few different mediums a try. My son never enjoyed paint when it was finger paint. He just couldn't stand the sensory overload or the mess.  But, having discovered that he can sketch on canvas, use chalk pastels, and charcoals, PLUS he can paint with acrylics or oils… he's over the moon happy. 
Besides, you never know if something will suddenly become a lovely piece to decorate your home.
6- Colored Pencils
As someone who has bought countless sets of colored pencils in every possible dollar amount. Let me tell you there is a big difference in the quality of brands. While it might seem silly to spend good money on a product that is going to get sharpened repeatedly the reality is the cheap ones don't last when put to use in the hands of a passionate artist. They break often, causing frustration, they split, and aren't worth the savings you might have gotten in the moment. Do yourself and your creative child a favor and invest in good Prismacolor colored pencils. It is well-worth the expense.
7- Prismacolor Double-Ended Art Markers
Again, do yourself a favor and allow your child the opportunity to use a maker that is vibrant in color! It's incredible the diference between these colors, the flooding ability that the colors leave. Rather than, line upon line, these allow the artist the ability to paint with a marker. These are double tipped. One end is wide and chiseled for precision while filling in, th other is a fine tip for getting closer to edges. 
8-Charcoal
You'll get a few charcoal pencils in with a graphite set, these are loose sticks that allow for covering a wider area with ease. Charcoals allow the artist to truly explore the contrasts between light and dark. Using charcoals gives depth, unlike any other medium, in my opinion. I use charcoals along with my chalk pastels when creating Bible Class Visual Aids.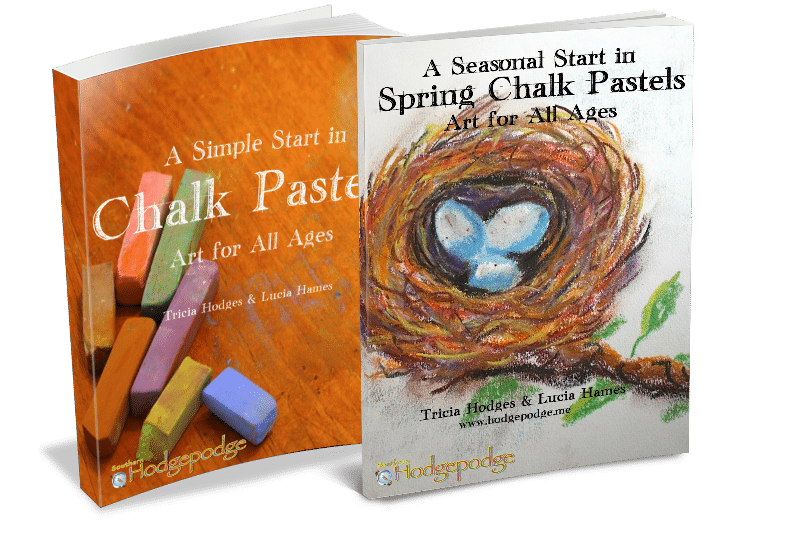 9 – Chalk Pastels
I have to admit, this is personally my favorite medium. I love the feel of soft chalk pastels and the ease of use. Regardless of age or skill, anyone can create beautiful artwork. For the creative thinking artist, it's simple to sketch in a bit of pastel to enhance a gorgeous sketch. Whatever the skill level, know that chalk pastels are the most forgiving medium. If fact, you can grab an eraser and simply erase, or wipe away what you think might be a mistake. Or, just go over and blend into another color on top. Be sure to check out the You are an Artist Video courses at Southern Hodgepodge. The easy to follow art curriculum that all of your students, and mom and dad too, can do and you'll be thrilled with the results!
10- A Great Art Course
If you want your child's art to grow beyond the basics, it's time to invest in a great art course. This allows your student to receive instruction in technique, medium, and style. Sparketh video course is great. The instructors make learning art, fun. They explain the processes very well and then encourage the student to be as creative as they want. Because these are online and pre-recorded, students can work at their own pace. They can explore their own interests and there are many lessons offered. 
Well, that's my top 10 artist supplies to keep on-hand for your creative thinker. I'm sure there are many other tools that can be added to the list. I was so happy to find the easel art kit I mentioned above because it helped me to quickly add products without breaking the bank if you know what I mean.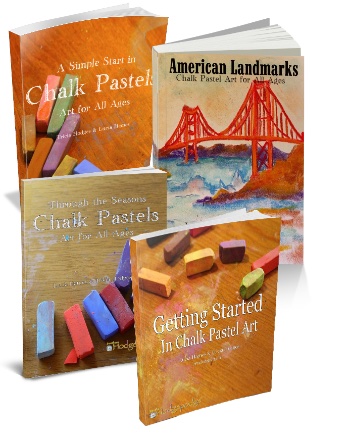 What are your favorite art supplies? Better yet, how do you store them? That's something I'm still trying to figure out. Seems like I'm always moving piles and pens, pencils, markers, etc. from here to there. Share your art supplies storage tips with me in comments below.

Be sure to read: