With homeschooling getting underway it's a good time to ensure you are incorporating music arts into your homeschool. Music in homeschool can be a vital component in ensuring a child gets a well-rounded education.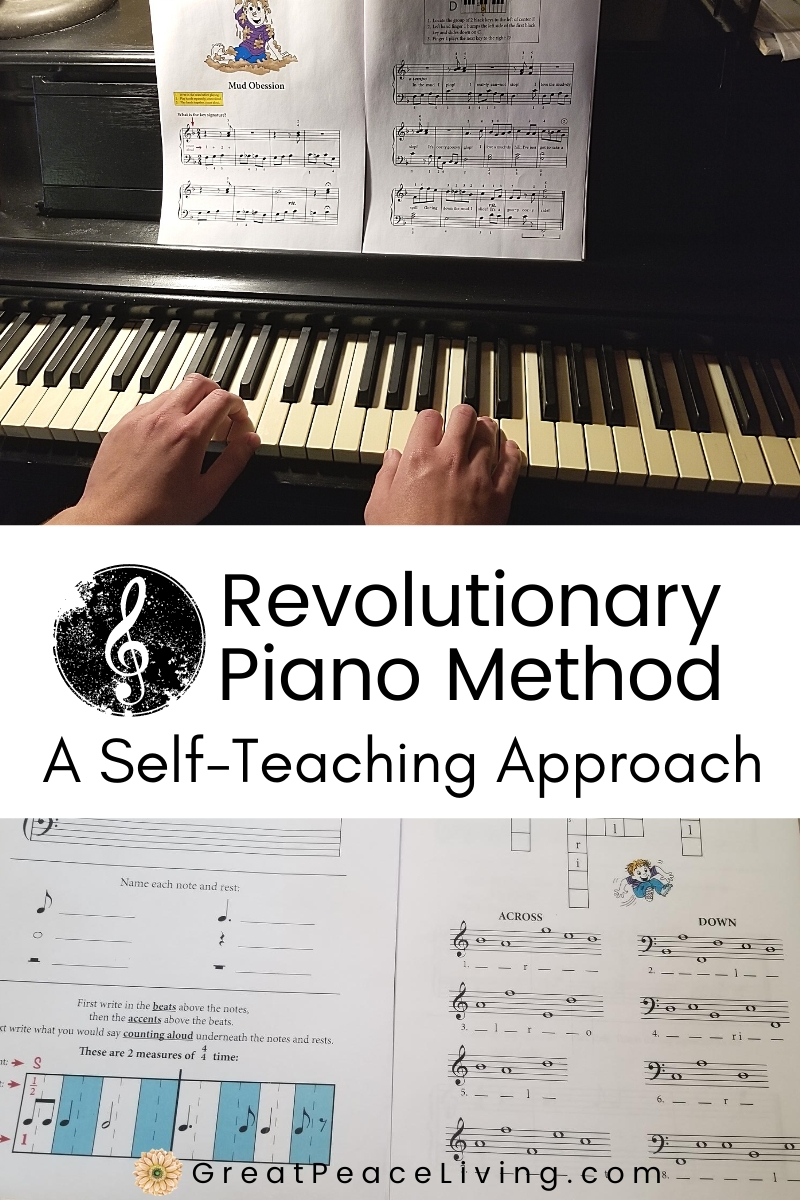 You are not alone if you are concerned with your ability to teach piano at home. Homeschooling moms often feel stuck when it comes to teaching music at home. Perhaps, the it's because they don't have the music and instrumentation knowledge to feel proficient in instructing their students in playing the piano. Or, maybe, it's because you feel that you can't afford private lessons for your child.
I know when my son showed an interest in music at an early age I was concerned that we couldn't afford lessons, or that we could afford a piano. In fact, I started off buying a simple toy keyboard with just two octaves.
Once we knew he was really going to stick with his lessons and do his practices at home, we bought him a larger electric keyboard with five octaves. And, later we were gifted a piano by a grandparent which was such a huge blessing!
I am being fairly compensated for my time in writing this sponsored review post. I received access to the materials mentioned below so that I could fairly assess the product. All opinions are my own and I was not required to write a positive review.
A New Piano Method for Self-teaching Instruction at Home
Revolutionary Piano Method offers a new method for teaching piano to anyone regardless of age, skill, or previous experience with music or piano instruction. What's really great about this method is that it's designed for self-teaching. That means you don't have to pay for private lessons. The lessons themselves are self-taught.
As long as the student can read, the lesson books will guide the student in how to learn piano, and better yet, how to read music. Of course mom, or dad, can also read along with a child who is still learning to read without having any need whatsoever for prior music knowledge.
Also, Revolutionary Piano Method Itty Bitty series was developed for ages 4 to 5. Or, as I like to think of them pre-readers, or even emergent readers.
If you have a child who isn't reading, yet, then you can opt for the Revolutionary Piano Method Itty Bitty Lessons. These lessons are designed to help pre-readers as they become familiar with reading music and learning to correspond that music to the piano keyboard.
There are five levels in the Itty Bitty series. This material covers the same material as the Level 1 of the regular series, but at a much slower pace. Once a young child progresses through the Itty Bitty series they'll be ready for the second level of the adult series.
The Revolutionary Piano Method can be used by anyone ages 6 through adult. It's perfect for anyone who can read and also who can be self-guided in learning.
The author of this series refers to the series as the adult series. And, I think this is where it can throw people off a bit. It is a beginner series for anyone who is starting out piano to learn both to read music and play the piano using this method.
Did you know that students who learn to play an instrument generally do better in other academic areas? That's because learning to read music is essentially learning a different language, and helps to develop math, science and art skills. You can discover more about how music instruction enhances education by reading the article How Would the Addition of Personalized Piano Keyboard Lessons Enhance Student Academic Learning? 
How is this Piano Teaching Method Different?
After ten years of piano lessons for my son I can tell you we've spent thousands of dollars on piano instruction.
My son picked it up pretty quickly and grew proficient in his skills right away. But, I know that is not always the case.
In fact, for a while I tried following along with his lessons and tried self-teaching from his books. And, I didn't progress very far and that's after I had taken 3 years of music and band in high school. I just never became proficient with reading music.
This method is ideal for homeschoolers because it's focused on an instructional design. Think of it like you'd think of a mastery method for other homeschool lessons.
Students learn to site read the music using mnemonics and easy to remember patterns. They work toward being proficient in site before progressing to keyboard work.
When keyboard work is introduced, it's done so in a way that helps the student to see how the layout of the keyboard corresponds to the written music. Because they've learned to site read the music, it becomes much easier to correspond finger work to the music patterns they've already learned.
In traditional piano lessons, students are expected to memorize finger placement based on a numbering system. The numbers do not correspond to notes. Thus they learn through a method of muscle memory rather than through thinking, and understanding the music they are trying to play.
The key difference is they learn to understand the music and how it corresponds to the keyboard rather than playing the keyboard and not understanding the concept of how it applies to the music.
See how the author of Revolutionary Piano Method explains the difference by watching this video.
How to Purchase the Revolutionary Piano Method
You'll save thousands of dollars with this self-teaching method because you won't need to pay for expensive private lessons. Plus, even with private piano lessons you have to buy the lesson books separately. Those costs add up!
The pricing for the books is between $10 and $12 each. So, they are very affordable!
Revolutionary Piano Method was developed by Leslie M. Young. You can learn about it on her website Piano4Me.
1 -Revolutionary Piano Method for ages 6 and older (including adult)
4 levels (2 to 3 books per level)

Lesson books
Theory books
Fun books (not included with the 1st level)

Answer keys are available so parents can review child's work.
Level 5 is under development.
2- Revolutionary Piano Method Itty Bitty for ages 4 to 5 (pre-readers)
5 levels
Lesson books
Theory books
Fun books (not included with the 1st level)
Answer keys are available so parents can review child's work.
Level 5 is under development.
In case you are wondering, the theory books are necessary. Music theory refers to the way that music works. It's important for understanding how notes, rhythm, timing and other aspects of how music is played. The lesson books take music theory and helps the students to learn how to apply their knowledge in the actual playing. The fun books carry that knowledge a bit further by teaching students how to use the theory in fun songs, many of which the student will have heard before.
You can purchase the Revolutionary Piano Method on Amazon! Which means you can order your child's first set of lessons today, have them delivered quickly and they can begin playing the piano next week.
September is a great time to start piano lessons. Just think, if you start them in their first lessons this month, they'll be playing a few songs by the holidays! Won't that be fun to show off to the family?
---
Want to discover other ways to teach music in homeschool?
Try these posts.