When it's cold outside, I like to fire up the crock pot for a winter dinner idea that is an easy, warm, and comforting meal. What can be more comforting that creamy pasta with chicken, mushrooms and spinach?
There is little doubt that pasta is a comfort food. And creamy alfredo sauce on top is so good.
When you add in savory chicken, spinach and mushrooms this warm dish makes for a wonderful winter dinner idea that the whole family will love.
This post contains affiliate advertisement links.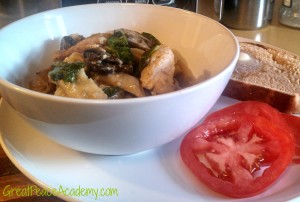 Creamy Chicken Penne with Cremini & Spinach
2015-01-02 19:36:12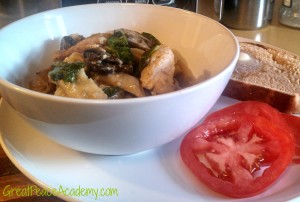 Ingredients
1/2 Cup of Chicken Stock
1 Jar Alfredo Sauce
2 Garlic Cloves minced
1 package Penne Pasta, uncooked *
1/2 Cup sliced Cremini Mushrooms
2 Cups fresh spinach leaves, trimmed
Chicken Breast, salt & peppered, cooked, sliced.
Instructions
In the bowl of the crockpot, stir together chicken stock, alfredo sauce, garlic, salt & pepper.
Add pasta.
Cook for about 45-1 hour on high setting until pasta is tender. Stir in cooked chicken and fresh spinach, lower heat to warm allow to simmer in crockpot for apx. 2 1/2 hours for flavors to blend together.
Notes
*Note: I cook pasta in the crockpot. The key is to make sure you have plenty of liquid as the pasta will absorb the liquid while it cooks. Without enough liquid the pasta will not soften properly. In this recipe, the chicken stock serves to thin the alfredo sauce and cook the pasta. Add additional liquid if pasta isn't completely covered by the sauce.
Renée at Great Peace https://reneeatgreatpeace.com/
You really can mix it up with this recipe by replacing the cremini mushrooms with any of your favorite mushrooms.
Or, simply change out the pasta and use rigatoni, or rotini for a change to the texture profile.
I like to serve this with a side of delicious crusty bread for a complete meal.
For a healthier pasta option I prefer Dreamfields Pasta.
Don't miss all of my Family Dinner Ideas so you can keep meal planning through the whole year.
---
What are your favorite winter time crock pot meals? I'd love to know! Share your favorite winter meals with me in the comments below.

Join my friends at the iHomeschool Network as we share even more great Crockpot Meal posts.
You May Also Enjoy
25 Delectable Tomato Based Soup Recipes are Perfect for Winter
12 Lasagna Recipes to Add to Your Menu
40 + Easy Recipes for Crazy Busy Moms You'll Want to Really Use
My Favorite Kitchen Gadgets