Is seafood a regular meal in your home? Whether you enjoy a good salmon steak or some shrimp or a nice filet adding some kind of fish into your meal planning rotation is a great way to change up texture and flavor. But, it's easy to get stuck in a rut of making the same dish over and over. With these 15 easy family dinner ideas with seafood you will find a wonderful variety that you can rotate through regularly.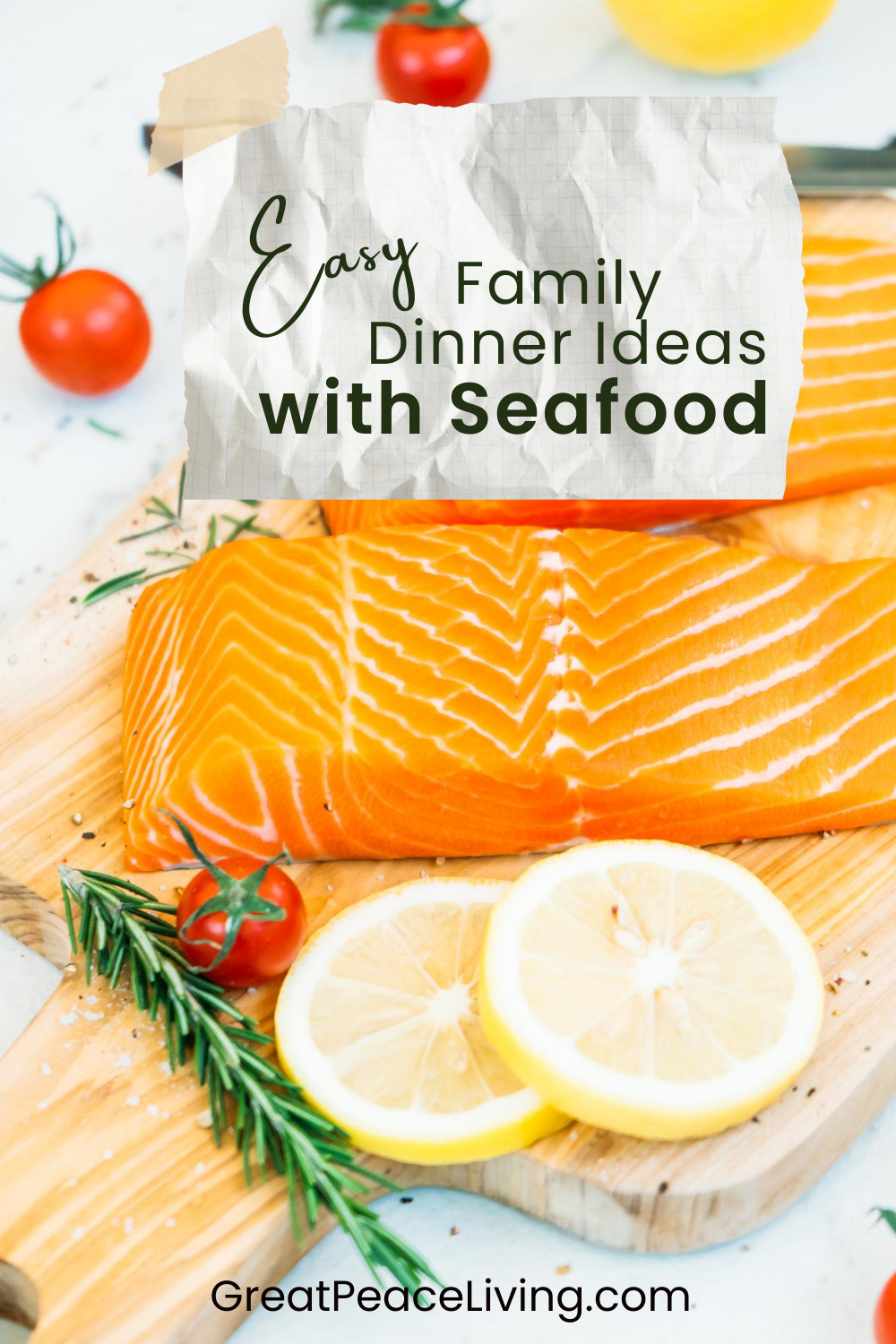 The thing about fish is it cooks fast! Which means no matter how late you head into the kitchen you can get dinner on the table quickly. With seafood you can almost always do so in under thirty minutes.
Because fish has it's a distinct flavor most recipes don't require a lot of extra ingredients. Which means you probably have a lot of the products available in your own pantry.
This post contains affiliate advertisement links.
15 Dinner Ideas with Seafood
Whether you choose to do seafood for 15 straight days, or you spread them out over several months. With any of these seafood dinner ideas you'll keep a great variety of flavors from around the world on your meal planning schedule.
Dinner Ideas for Fish
1- Make this amazingly delicious Instant Pot Teriyaki Salmon from Two Pink Peonies for dinner tonight! It is not only tasty but so fast and easy to make in your pressure cooker.
2- It only takes a few simple ingredients to make this restaurant-quality salmon dish! When you need healthy and fast, this Pan-Fried Salmon from Happy Healthy Mama is the recipe you need.
3- This tender, Pan-Fried Salmon with Lemon Cream from Good to Gather is simple and fast, savory, and rich- lightened up by the crisp freshness of the lemon cream.
4- Bring the coastline into your kitchen with these fresh Kimchi Soft Tacos with Cod from In the Kitchen. The Mexican-Korean fusion dish has unique but incredible flavors.
5- This Blackened Cod from Two Pink Peonies is such an easy weeknight recipe. It is loaded with flavor and will definitely remind you of a dish that you'd order at a restaurant.
6- Korean-style Pan-Fried Fish from The Good Hearted Woman, is a flour and egg battered fish recipe. It is a simple, easy pan-fried fish recipe. Serve it with a mango salad for a delicious meal in under 30 minutes!
7- Steamed Fish with Ginger and Soy Sauce from Delightful Plate is a restaurant-quality dish you can easily make at home in just 30 minutes. Serve it with rice for a healthy and delicious dinner.
8- Camarones a la Diabla from Mama Maggie's Kitchen are spicy and delicious Mexican deviled shrimp. Cooked in a red Chile sauce that's irresistibly good.
Dinner Ideas for Shrimp
9- Do you love Crispy Fried Shrimp from Ask Chef Dennis? When it comes to cooking shrimp, frying will always be my favorite way to prepare those delicious little morsels. Bubba Blue from Forrest Gump was right when he called shrimp, the fruit of the sea. What he didn't tell you was how easy they are to make and how little time they take to cook.
10- Chipotle Cream Sauce with Shrimp, also known as Camarones con crema chipotle, from 24 Bite is an elegant, dairy-free, mouth watering, restaurant-quality, recipe made with three ingredients in less than 30 minutes!
11- Full of flavor and packed with vegetables, this Shrimp and Vegetable Pad Thai from Simply Scrumptious makes a great quick and easy family meal. You'll enjoy the zingy flavors of the Thai sauce along with the kick of heat from the red chili flakes.
12- Toss your favorite ravioli in the pot to cook and create this delicious Shrimp Scampi from Ask Chef Dennis to serve it in less time than it takes to pick up takeout. You'll impress your family with this restaurant-style meal.
13- Camarones en Crema Chipotle from Mama Maggie's Kitchen is made of succulent shrimp cooked in a rich and decadent cream sauce. Serve with rice and veggies for a quick and easy dinner.
14- This Sautéed Shrimp and Zucchini from Delightful Plate is a quick and easy one-pan meal for busy days. It is also healthy and delicious.
15- This Lemon Garlic Shrimp Pasta recipe from Haute & Healthy Living is packed with flavor and is so simple to prepare! It only takes 30 minutes, but tastes like something you'd get at a restaurant.
---
Which one sounds the most appetizing to you? I'd love to know share your thoughts in the comments below.
Don't miss these family dinner ideas: