Sometimes we need a bit of inspiration and be reminded of why we need family bonding. This can be especially true at the end of a long winter where everyone is stuck in the house together. Inspiration can come in many forms but one of the best ways is to think about quotes that remind us of the importance of family. That's why I've gathered these family bonding quotes to help you remember the joy of your family.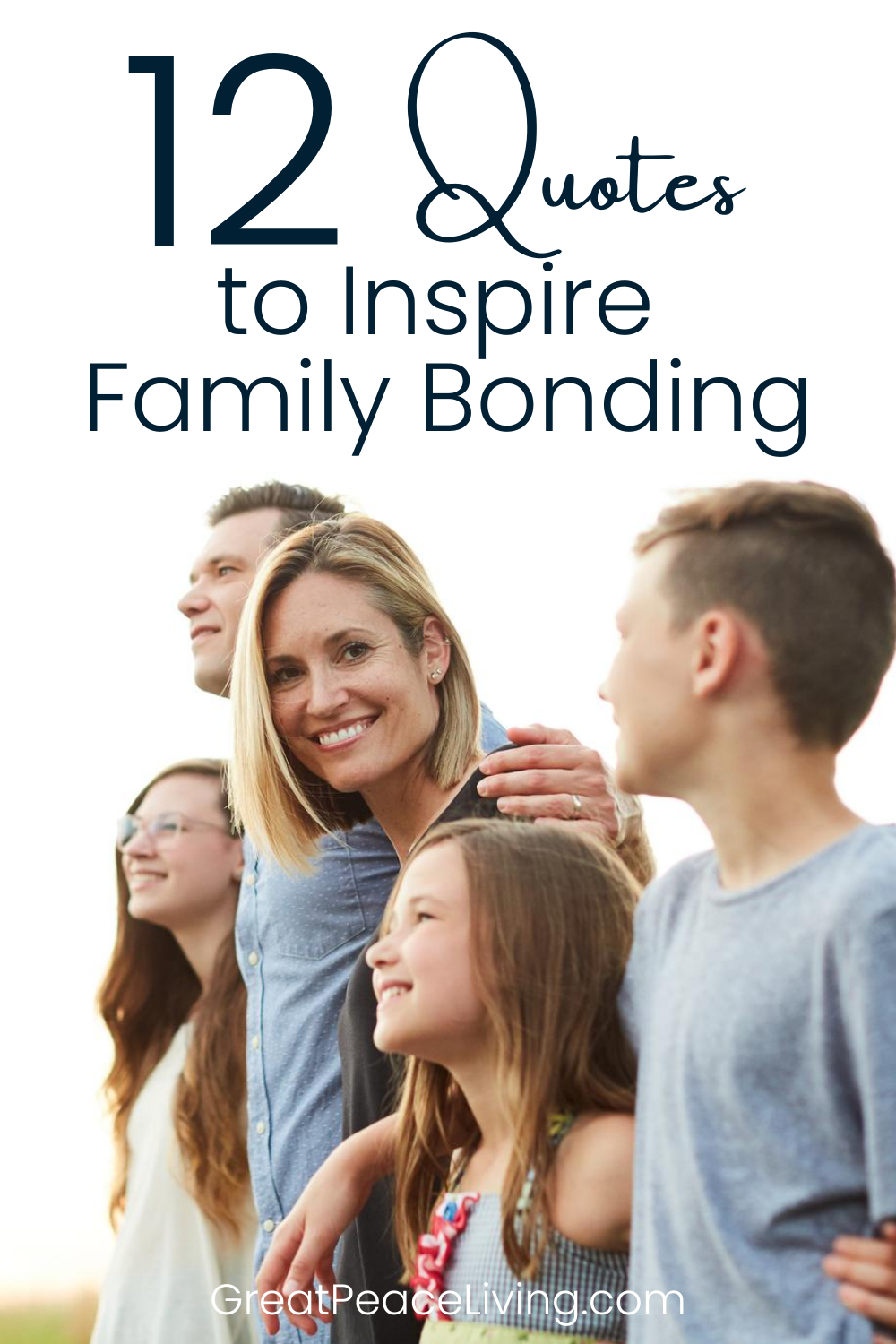 There is something special about family bonding time. Whether you spend time playing family board games, creating delicious meals together or take family vacations, the memories you create will last a lifetime.
The Importance of Family Bonding Quotes
Sometimes we need to be reminded of why family bonding is important. We need to learn to purpose time so that you are focused on being together rather than simply existing in the same space. Our family can be a source of strength, comfort and joy. And, when we work together to develop good relationships the family can be a place of peace as well.
There are several family bonding quotes that perfectly touch upon the value that family bonding can bring.
This post contains affiliate advertisement links.
12 Happy Family Bonding Quotes 
The value of family bonding is immeasurable. This becomes more and more evident as kids get older and move into the teen and adult years. But laying a foundation of unity will last a lifetime and beyond. You'll be teaching your kids the importance of family and they'll pass along those traits to their own kids. 
These quotes expose the importance of bonding with your family, creating everlasting memories and an environment full of love and happiness. 
---
"There is no such thing as a perfect family. Behind every door there are issues, the difference is accepting and encouraging each family member as they are not as we would like them to be." – Catherine Pulsifer
"Family life contributes immensely to an individual's happiness. Only in a happy home life can complete contentment be found." – Dorothea S. Koppliln
"A loving family provides the foundation children need to succeed, and strong families with a man and a woman – bonded together for life – always have been, and always will be, the key to such families." – Jim Bunning 
---
"Our family is like the branches of a tree. We may grow in different directions, yet our roots remain as one." – Unknown
"Families and friends form some of the closest of bonds you will ever experience. It is almost impossible for you to lead a happy life without support from these important groups of people." – Jeffrey Dawson 
"Family is the most important thing in the world." – Princess Diana
---
"When you wrap your child warmly every day with layers of your unconditional, healthy love before you send him out into the world, he will rarely feel the cold chill that often comes with life's changing seasons." – Shadonna Richards
"The bond that links your true family is not one of blood, but of respect and joy in each other's life." – Richard Bach
"If the family were a fruit, it would be an orange, a circle of sections, held together but separable — each segment distinct." – Letty Cottin Pogrebin
---
"Families are the compass that guides us. They are the inspiration to reach great heights, and our comfort when we occasionally falter." – Brad Henry
"What greater blessing to give thanks for at a family gathering than the family and the gathering." – Robert Brault
"Your family and your love must be cultivated like a garden. Time, effort, and imagination must be summoned constantly to keep any relationship flourishing and growing." – Jim Rohn
---
There are many family bonding quotes that focus on how important it is to create a special family bond. These quotes are beautiful reflections of the love and strength family bonding creates.
What are your favorite family quotes? I'd love to know! Share them with me in a comment. 
Celebrate Family with these Gorgeous Household Products
Don't Miss These Happy Family Posts