With the cold weather coming, now is the best time to kick the bacteria to the curb. Take some time to really dig in and clean as you prepare to nest your home for winter and start with some healthy cleaning using natural products. Pull out the microfiber cloths and give your home a good cleaning before the winter time frost and coughs set in. Learn how to do healthy, cleaning to prepare your home for winter.
This post contains paid advertisement and affiliate links.
We all know that winter months lead to long days cooped up in the house. It also seems that winter is the time that colds, flu, and other respiratory infections can begin to trouble the family. But you can get ahead of the yucks by doing a bit of autumn cleaning. 
Take a few minutes to inform yourself of the six common childhood illnesses that occur in the winter time. Once you do, you'll be ready to do a bit of freshening up around the house. 
▬ Winter's Most Dreaded: Identify and Avoid these Six Common Childhood Illnesses by Sarah Lenhardt, MD
Tips for Healthy Cleaning of Your Home
Clean all hard surfaces using an all-purpose natural spray cleaner. 
Use a Microfiber cloth to wipe up grime with ease. 
Vacuum, corner cobwebs, window sills, under the furniture and the carpet, go over it several times emptying the container often. Once done, be sure to take that trash bag out quickly. 
Change the air filters in your home. 
Use a diffuser to add moisture to the air, and use essential oils to help cleanse the air quality as well. 
Change out your sheets out for flannel ones. If they've been sitting since early spring go ahead and wash them using an all-natural laundry soap and dry in the dryer using a microfiber sheet instead of chemically laden fabric softeners. Or, you can use an all-natural fabric softener, like, wool drying balls, or Mrs. Meyers fabric softener sheets.
If you don't have flannels, be sure to wash your sheets (if possible in hot water) using the all-natural products.
Open the windows. During autumn it's a great time to open the windows and let the sunshine and fresh air poor into your home. 
Scrub bathroom surfaces using a non-abrasive all-natural product like, Bon-Ami, or Baking soda and vinegar.
For toilets, I like to use Method's Antibac Toilet cleaner, it gets the job done, and leaves the bathroom smelling fresh.
For tubs & showers I use Mrs. Meyer's Multi-surface spray cleaner, my favorite scent is Geranium! I spray it from top to bottom, and then use a scrub wand to scrub down the surface with ease. Then give it a quick rinse and you are good to go! So easy. We installed a hand-held shower head which makes rinsing even easier.
For hard surface floors, I use Mrs. Meyers vinegar gel, it's so easy I can clean my kitchen floor in about 2 minutes. Just squeeze a bit onto the floor. Use a damp mop and clean the floor… no rinsing required!
Resources to Help you Develop Natural Cleaning Habits
4 Natural Cleaning Supplies You Can Make Yourself at A Mama's Story
Naturally Clean the Bathroom, and a Homemade Soft Scrub Recipe at A Delightful Home
DIY Homemade Citrus Vinegar Cleanser at Domestic Serenity
7 Arm & Hammer Baking Soda Cleaning Hacks at Merry About Town
Homemade Cleaning Products for Specific Jobs at Annie and Everything
Why Indoor Air Quality Matters for SAHM & WAHMS at The Koala Mom
Get the Kids Involved in Healthy Cleaning Habits Early
But moms! You do not have to do all this cleaning alone! If your children are old enough to walk, they are old enough to begin helping you around the house. I taught my son to put his dirty clothes in the laundry basket when he was two, and he learned to make his bed by four. Now, he's responsible for taking out the trash, unloading the dishwasher and running the vacuum to name a few of his chores.
You too can get your kids involved in cleaning up. Take a listen to this podcast for tips on Getting Kids Involved in Cleaning by Demetria at Christian Homeschool Mom. Grab these Cleaning Chore Cards to make getting them involved even easier, via my friend Sara at Happy Brown House.
Being homeschoolers means we're home even more than the average American family. And, those germs get passed from family member to family member. Get some Homeschooling & House cleaning tips from some of my favorite homeschool bloggers in this post by Karyn at Teach Beside Me.
Healthy Cleaning doesn't have to be expensive. You can get amazing natural cleaning supplies from
Grove Collaborative
. Just click the image below to use my referral link and you'll get a $10 credit toward your order and so will I.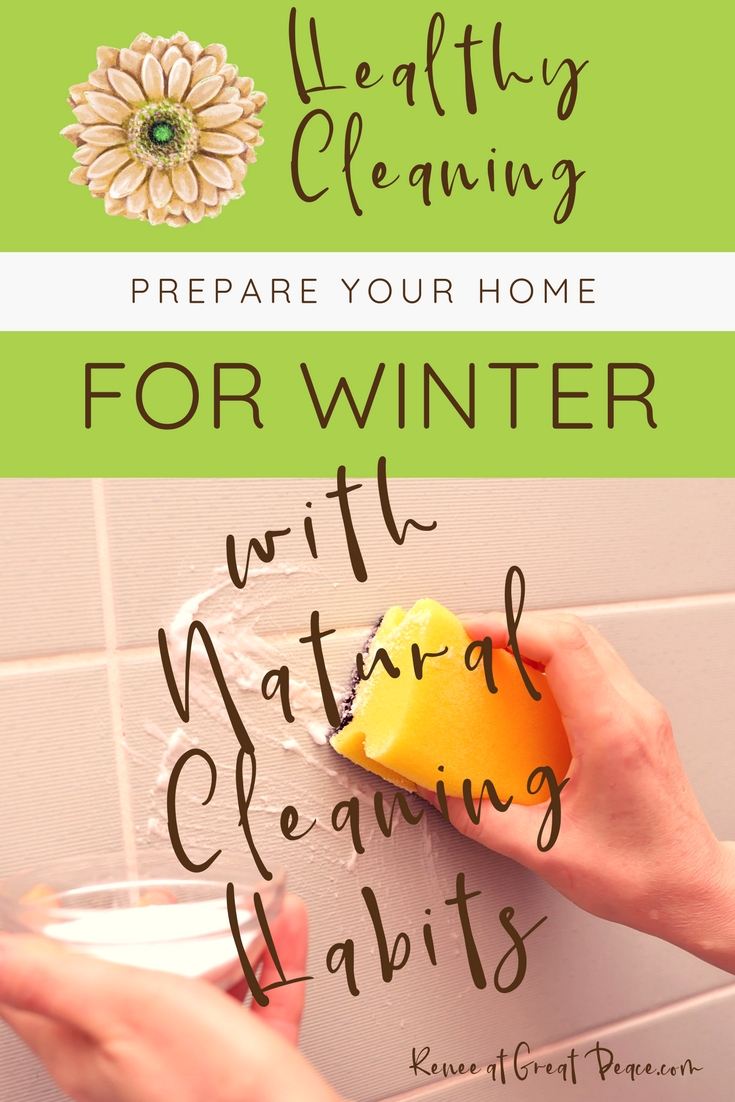 What tips do you have for preparing your home during autumn for keeping your family healthy throughout the winter months? I'd love to hear your thoughts… tell me in comments.

Want More Homemaking Tips?