When it comes to homeschooling your high school student, it is natural to want to use the best resources and curriculum out there. If you are seeking high school music appreciation history curriculum to use in your homeschool, you might not know about these resources. 
Music appreciation will be of great benefit to your teen's study. These music appreciation history curriculum resources can provide you with everything you need to teach your high school student music history.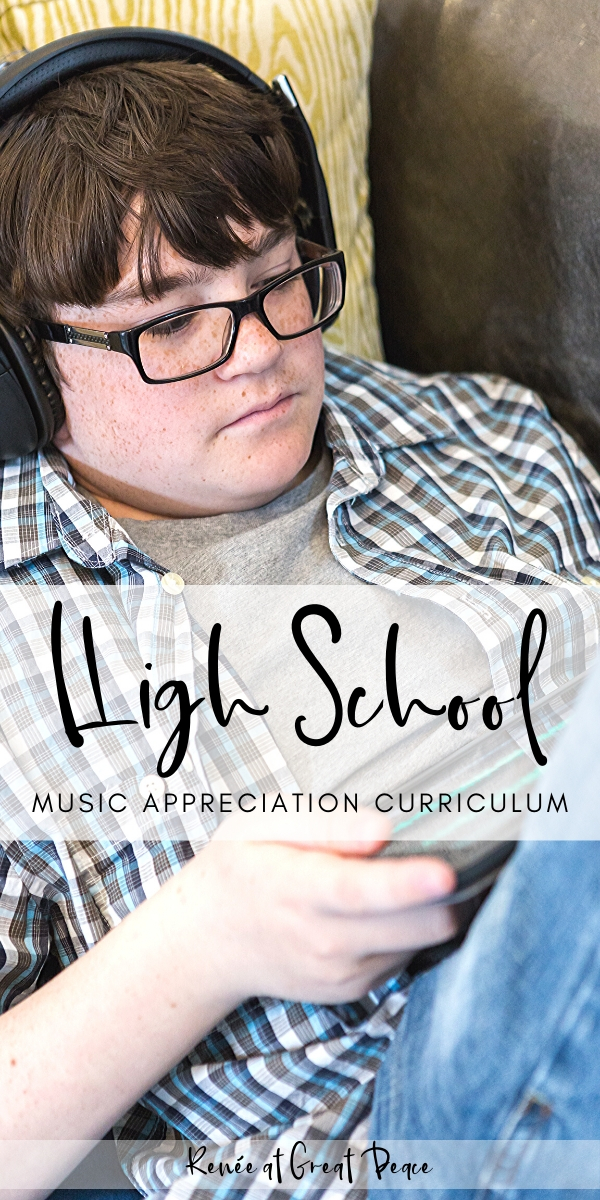 Whether your child is a hands-on learner, or prefers a book study you won't be disappointed with the variety of music history curriculum that I've gathered for your teen. And, in all honesty while your family might enjoy a good book study, to get a true sense of music history you'll want to listen to great recordings. 
You'll discover in this list, materials with recordings, books, online resources and more. This means you will be able to cover a wide range of music history in your homeschool.
Homeschooling music for high school students can be a rewarding experience as you watch your children discover, and select their own personal tastes in music.
This post contains affiliate advertisement links.
High School Music History Resources and Curriculum
While this website is designed to support music teachers, I've found that their resources page has a good content for helping to teach music history in homeschool. This will be a resource you can use if you prefer to pull together your own study.
If you are an eclectic homeschooler, like me, you'll know just how to utilize this resource along with others listed to bring out an in-depth study. And, even if you aren't an eclectic homeschool teacher, you can use the resources provided to enhance any music history learning materials you opt for.
2- Unplanned Homeschooler – If you are looking to teach your high school student the history of Rock Music, The Unplanned Homeschooler has a fantastic book for that. The History of Rock and Roll: A Unit Study on Music Appreciation, is a great way to teach your children about this diverse genre of music through a unit study application. 
3- Music in Our Homeschool Online Courses
You will discover true High school music appreciation here. This curriculum can be a stand-alone high school 1/2 credit for any of the following eras.
4- Easy Peasy All-In-One High School
Easy Peasy is well-known for providing free, yet quality homeschooling curriculum.
With this resource, students can foster their understanding of music and music history. It's a 90 lesson plan with simple to follow daily lessons. Each lesson will take about 30 to 60 minutes to complete. You can assign a 1/2 credit for completion of this curriculum.
Students will learn the basics of musical styles from the Classical period through to the Jazz age. This will help students to develop their musical ear. These courses are a fantastic way to learn the history of a variety of different music genres.
TeachRock is an arts-integrated curriculum that engages students by teaching the history of popular culture and music.These innovative lesson plans are developed by top experts and experienced educators.
TeachRock is an engaging way to teach meaningful music history and makes it easy for homeschool teacher to manage content that you might not be extremely familiar with.
Let's face it, many teens love rock music. But, they may not know it's history. And, when you delve into the beginnings of rock-n-roll you can steer the kind of rock they might find more fascinating. My own son has recently become enamored with The Beatles music. 
As always, be sure to preview materials, and content to ensure that lessons meet your own family's faith values. 
I would be remiss if I didn't mention Zeezok Music Appreciation. Their elementary curriculum has long been a staple for my music loving son. In fact, every time I mention selling the readers he tells me new's not ready yet.
I was thrilled to learn they've expanded their collection with Music Appreciation: Book 2 Collection.
While it is written for middle school aged students, it would be OK to utilize this resource for your 9th graders. I'm sure you'll find it to be beneficial as part of a fine arts study.
This curriculum introduces kids to 14 different composers throughout musical history. This program opens a new world of entertainment and art for your homeschool students.

There are several different high school music history curriculum out there to choose from. Many offer a wide variety of resources and learning experiences that cater to your high school student.
Just make sure that you choose the best ones for your child's learning style. In no time, your high school student will have an in-depth knowledge of music history.
Happy homeschooling!
While you are here be sure to read these music in homeschool posts.