Don't you find that the actual doing of homemaking can get overwhelming?
Homemaking, we all know it's part of our role as women, wives and mothers. We understand that God has designed us to be helpers (Genesis 2:18) and desires for us to be keepers at home, (Titus 2:4). 
This post contains affiliate advertisement links to 3rd party sites.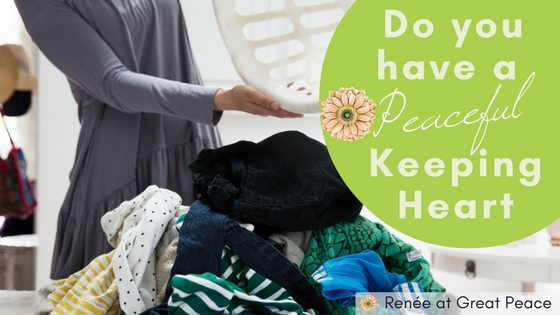 In fact, if we don't guard our hearts it can become a burden. A burden that can lead to discontent if we aren't careful about our attitude. I recently was re-reading an article written by my friend Stacy, over on R16:16, listed below, and I was reminded that when I grumble and complain about the role that God has given to me, I am not honoring Him. Nor, am I honoring my husband and family with my negative attitude.
"Do all things without complaining and disputing,  that you may become blameless and harmless, children of God without fault in the midst of a crooked and perverse generation, among whom you shine as lights in the world,…" Philippians 2:14,15 
The reality is…. I love being a wife, a mother, and providing them with a warm, joyful, peaceful home to share our lives in. Satan, though, wants me to be discontent. And, if I allow myself to give into the frustrations that can come with homemaking, I will make our home less than happy and certainly not peaceful. 
So, I want to add once again to my prayer list, asking the Lord to help me have a joyful, peaceful attitude about my role as a homemaker. 
10 Homemaking Posts to Help you Find Peace
Homemaking Cleaning and Organizing Tips & Tricks
1- 61 Essential Skills for Homemakers – Marie at Home for the Win!
A collection of skills that are important for homemakers. Whether you are a new wife, or a struggling homemaker these tips can help you get on track. It's also an excellent post to help moms who are training up their kids to know good homemaking skills 
2- Go Green & Save Green: 5 Natural Cleaning Tips – Stacy at A Delightful Home
I've been slowly replacing our cleaning products with natural options. I love how simple Stacy makes it with these 5 natural cleaning tips.
3- Get All the House Cleaning Done with a Weekly Chore Rotation – Amy at Raising Arrows
Amy shares how to set up a weekly routine for the family to stay on top of the home cleaning tasks. As a mom of many she knows just what is needed to keep the home running smoothly.
4- Tips To Organizing A Small Pantry – Marlene at A Diligent Heart
Keeping a pantry organized is always difficult, especially with little kids around. Boxes of cereal, bags of chips, it becomes cluttered rather quickly. Marlene shares ideas for simply organizing a small pantry that won't break the bank or drive you insane.
5- 5 Creative Home Organizing Tips –Kristen at The Road to Domestication
Thinking outside the traditional organization boxes, Kristen's guest post by Fay, offers 5 creative solutions you may not have thought about.
6- How to Make a Month of Meals to Fill Your Freezer – Paige at Hodgepodge
Meal planning doesn't have to be overwhelming. By prepping ahead of time, you can grab and go to keep the meals on the table, on time, and just right. 
Keeping Family Healthy
7- Healthy Homemaking: Ten Ways to Prepare Your Home for the Cold and Flu Season – Sara Elizabeth at Raising Homemakers
Oh, we've been ill lately. And keeping the home clean during the winter months is hard because we aren't outside as much and therefore the house can get cluttered fast. When illness strikes, it's all the more important to clean up, and get the germs out. Sara Elizabeth offers 10 tips to keeping the family healthy during cold & flue season.
Encouraging Homemaking Posts 
8- Seeing Homemaking as a Labor of Love instead of Drudgery – Rebekah at Faithful with a Little
A gentle reminder that we need to consider the work that we are doing as a labor of love. It's something that I came to learn when serving my parents during their illness's. It wasn't always easy, some days it was hard, heavy work. Other days I could see the blessing in it. In the end when I look back at the time I spent with my dad before his passing, the more and more thankful that I am for that time, and that work.
9-Keeping the Home for His Glory -Me at R16:16
Make your burden a little lighter and strengthen your resolve to stand firm in the roles He has placed you in. 
10- Elevating Homemaking to It 's Rightful Place – Stacy at R16:16
Stacy helps us to see that homemaking is holy work. It's the work that God designed for us and we should embrace because we love Him and we love our families. 
My favorite Resources for Homemaking 
I've recently found some awesome homemaking products that have made my life easier, healthier and leaves my home smelling marvelous and oh so clean. So I wanted to take a moment to tell you about these. 
Just look at those suds! And they leave my dishes sparkling clean as well. The subtle scent is lovely as you are washing dishes too. I just about a quarter sized amount of liquid and the suds last a long time too. I've used many of the different scents available and love them all.
Method Naturally Derived Antibacterial Toilet Bowl Cleaner, Spearmint
I have to admit that I struggled with wanting to switch my toilet cleaner to a natural cleaning product. But, this product has fully changed my mind. The fresh clean scent coupled with the cleaning power that you can see has made me a full-believer that an natural antibacterial toilet bowl cleaner is the best option for our family.
Method Anti-bac Bathroom Spray, Spearmint
While I do use the Mrs. Meyer's clean day multi-purpose spray in most of the bathroom. There is just something better about the anti-bacterial bathroom spray from Method that I prefer to use to clean the toilet. Maybe it's that fresh, clean, mint scent vs. a floral scent of geranium, but I just like that my toilet both inside and out smells like it's been sanitized.
Mrs. Meyer's Clean Day Multi-Surface Everday Cleaner, Geranium
This is my favorite cleaning product ever! The scent is subtle, not too floral. Let's face it I live with 2 men and they aren't too thrilled if the house smells like flowers all the time. This all-purpose cleaner has made my life easier! It truly is an all-purpose cleaner unlike others on the market. I use it to clean my shower, tub, and sinks with a quick spray, wipe down with a scrub sponge, and rinse, simple and easy. But I also use it to mop my floors, clean the kitchen sink & counters, stove, appliances and cabinets. It smells so nice, for DAYS after I've cleaned up. This all-purpose cleaner saves me so much time.
Seventh Generation Free & Clear Laundry Detergent
Ok, it took me a while to move from the traditional laundry soaps because, well, I just wanted to be sure my clothes were clean. BUT, I'm a convert. The clean you get from all-natural is better. At first, I wasn't happy because the only products I could find were lavender, or basil, and other essential oil scents. And, they left my clothes smelling like it. My husband, well, he doesn't want to walk around all day smelling of lavender. Know what I mean? But then I discovered Seventh Generation Free & Clear, and it was the all-natural laundry game changer for me. 
I've been using micro-fiber for years to clean my home. The tiny fibers just grab dust, dirt and grime and wipes them away with very little scrubbing effort from me. I know there are fancy, big-name brands these days, and I've tried them. But, I find that they just don't clean as well as the ones I can get at the auto repair shop, grocer, or on Amazon for much less. 
My newest favorite resource isn't a product but rather an online store. Grove Collaborative! 
Have y'all seen this? It's an online store dedicated to all-natural products at super affordable pricing. The above products I mentioned are there, along with a wide variety of other homemaking, and natural beauty and body care products. 
Some of the Brands that Grove Collaborative Sells 
Method
Mrs. Meyer's
Seventh Generation
Molly Sud's
Dr. Bronner's 
Acure
Smarty Pants
and more 
I'm using them to buy my toothpaste, shampoo, and cleaning supplies. Sign up for their VIP subscription and get free shipping. You can select the items you want each month and they'll send you the products you need. Simple, and easy. You'll get text and email reminders before anything ships, so no surprises either and you can always edit and change what's in your cart.
This month, my order contained, the Method toilet bowl cleaner, Bon-Ami Powder Cleanser, and Mrs. Meyer's All-purpose spray. I like that I control the amount I spend each month and get the products that I want. 
What are your favorite cleaning products? And where do you go when you need tips & tricks for homemaking? I'd love for you to share your resources with me in the comments below.