Did you know you can teach homeschool art with very little difficulty? You can I'm sharing my favorite resource below for teaching comprehensive art lessons inside your own home.
My son loves art. He's always been one to doodle and sketch his way through a day. This past summer he asked me if there was a way that he could learn how to do portrait drawings.
From the earliest of ages he's had a pencil in his hand and has surrounded himself with stacks of paper that he'd sketch on. Over the years his interests in what to draw has changed. 
He has begun sketching pictures of people he knows. His sketches are done fairly well for a beginner, but I could tell that he was beginning to be frustrated because shape and shading is difficult on portrait art. 
This post contains affiliate advertisement links.
Portrait drawing can be difficult. While I have done some character sketching with chalk pastels, I've never really taken a course in portrait drawing and didn't think it was something that I personally could teach him how to do. 
I am being compensated for my time in reviewing and writing about this service. All opinions expressed are from my own perspective and I am not required to write a positive review. This page contains affiliate advertisement links to 3rd party sites.
So, I told him we should check online with our favorite homeschool art program. Sparketh. 
A couple years ago I had him doing the homeschool art courses at Sparketh. He was thrilled with the way the lessons are taught. Each of the lessons are broken down into small video portions each teaching a step and technique. I'll share more about that in a bit.
When we went to the website we saw that Sparketh is now are offering curated tracks in addition to single courses.
He was so excited when he saw one of the tracks is Art Style Portraits and said, "Mom! I have to do it."
So, we got it all set up and he's been relishing the experience. 
Homeschool Art Tracks Portrait Drawings
The Art Style Portrait Art Track, and others like it, offer a curated grouping of art lessons centered around a theme.  
Each track offers a variety of lessons. 
The Art Style Portraits track offers about 10 lessons with a few technique lessons as well. The lessons include several short videos that instruct the technique and style of the focused lesson. Together, these short videos work to build a finished piece.
Plus, they are taught by what appears to be college age young men and women. So my teen son feels a good connection with them.
Be sure to take a look at the art supplies that I keep on-hand for my creatively minded son.
Each lesson incorporates not only art instruction but art history and appreciation as well. Which, as a homeschool mom, I really appreciate. 
My son is thriving under the tutelage that Sparketh provides. His skill level for faces, and shading has improved and he's really enjoying discovering new techniques.
What You Need to Know about the Art Style Portrait Track
The Art Style Portrait Track teaches students 10 different portraiture styles. Plus, they'll learn technique, style, genre, and a brief history of each.
Minimalism Portrait
Pop Art Portrait
Fauvism Portrait
Harlem Renaissance Portrait
Manga Portrait
Abstract Expressionism Portrait
Impressionism Portrait
Cubism Portrait
Surrealism Portrait
Realism Portrait
As students progress through the course they can upload their artwork to the gallery. It's fun to watch and see how others develop their own art based upon the same lesson. 
For fun, I joined my son when he did the Abstract Expressionism Portrait. You can see how we did in this side-by-side comparison. 
 What You Need to Know About Homeschool Art with Sparketh
Sparketh is affordable!
Imagine taking your child to a local art class. You'd likely spend $15 per week just for the lesson, not to mention supplies and gas to get there and back. 
Sparketh is simply $25 per month and you get access to their entire collection. 
Students can work at their own pace. My son often pauses the video, or even rewinds. He wants to be sure he isn't missing any instruction and he carefully takes his time working on the pieces.
Recently Sparketh has added a feature to their account settings. Parents now have the option to add up to two student logins. This feature is still in testing phase, but once complete, student's will be able to work through the courses independently. And, they will able to share their own art attached to their own profile. 
Wouldn't it be great if your kids learned to sketch portraits? Who knows they could become the family archivist sketching portraits of each family member which could become cherished family keepsakes. 
What about your kids? Do they love art? Do they thrive on step-by-step instruction given in a kid-friendly upbeat way?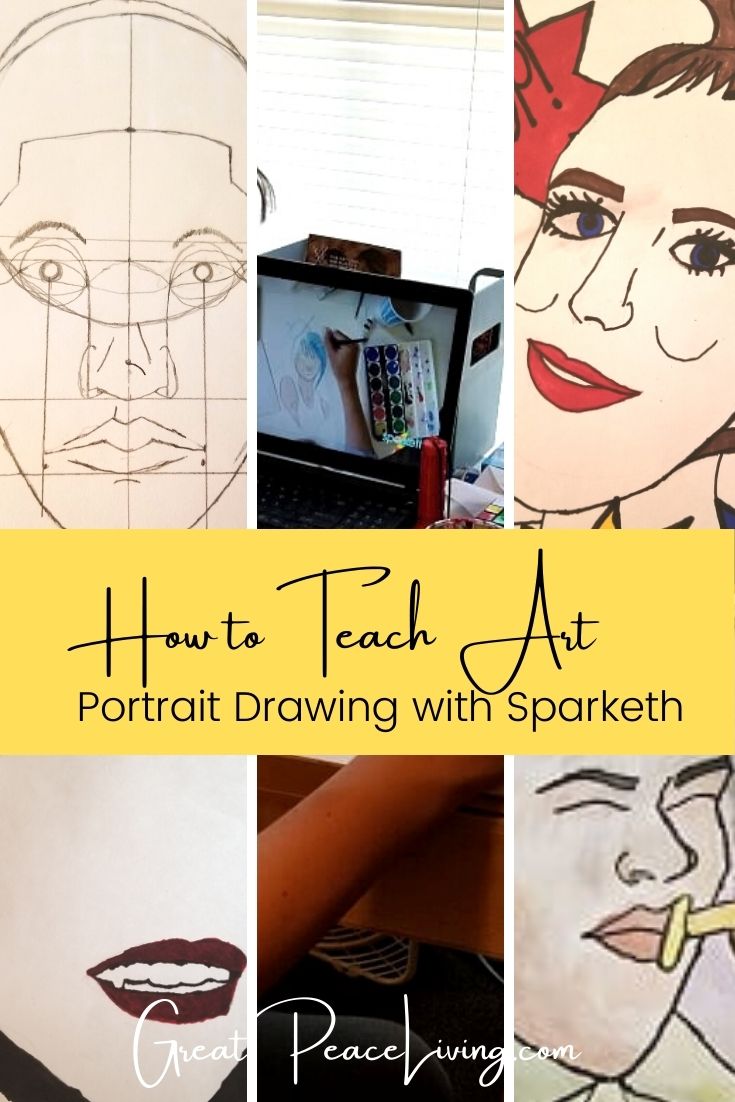 Click here and learn more about Sparketh and encourage your kids to give portrait drawing a try. 
You May Also Enjoy