Living in a society that claims that the Bible is fictional does not help the cause of a parent who is seeking to teach their child how to do Bible Study.  Nevertheless, we are given the responsibility by God to "Train up a child in the way that he should go…" Proverbs 22:6*. This abiding principle is reflected in the New Testament as well, "…bring them up in the training and admonition of the Lord." Ephesians 6:4. So, how do we teach our kids to not hate Bible study?
Homeschooling families who seek to home educate for spiritual reasons often incorporated Bible study into their homeschooling routine. As parents we want to help our children grow spiritually and learn the truth found in God's word. But, we don't want to "…provoke our children to wrath…
" Ephesians 6:4.  So how do we go about teaching them the truth without leading them to hatred of the word?
That starts with looking at what will lead them to hate the study of God's word.
This post may contain affiliate and partnered advertisement links.
5 Ways to Get them to Hate Bible Study 
1 – Don't live what you teach. 
If you think you can teach from God's word, then live a life that opposes it, your children will see, and they will understand that you are a living a lie.
2- Force them to study, but never let them see you studying yourself. 
If you make your children study the Bible, everyday, as a part of their homeschool life, but they never see you reading from the word, or reading with them at any other time, they will understand that the Bible isn't really that important to you.
3- Be wishy washy about your faith in God.
 If you have faith, you should stand firm in it. Doubt leads yourself and your children to be tossed to and fro by every wind of doctrine. (Ephesians 4: 14). Jesus said in prayer "Sanctify them by your truth, thy word is truth." John 17:17. You need no doctrine of men. Let God's word be your truth. 
4- Teach by force of will rather than love for their soul. 
Yes, as a parent it is your responsibility to teach them through Bible study and you can't waiver. Yet, if we take on the role as spiritual leader of our children's souls it should be because we love them, and want to help them to reach heaven. It should not be because we have to, or to force obedience upon them. 
5- Put them off when they ask questions. 
Children are curious creatures. They will often ask questions about what they are reading. If you put off their questions without explanation, they will come to see that you aren't concerned with their thoughts.
It's ok to say, "I don't know the answer to that, let me research it and I'll get back with you." Be sure to follow up with it though.
It's not ok to say "That's not important, just do the assignment." 
Children are amazing. They will believe what we teach them, but if what we teach isn't backed up by what we live, then they will see us as liars. If we want our children to come to know Gods' word through Bible study, we must be a reflection of it.
5 Tips to Teach Kids to Love Bible Study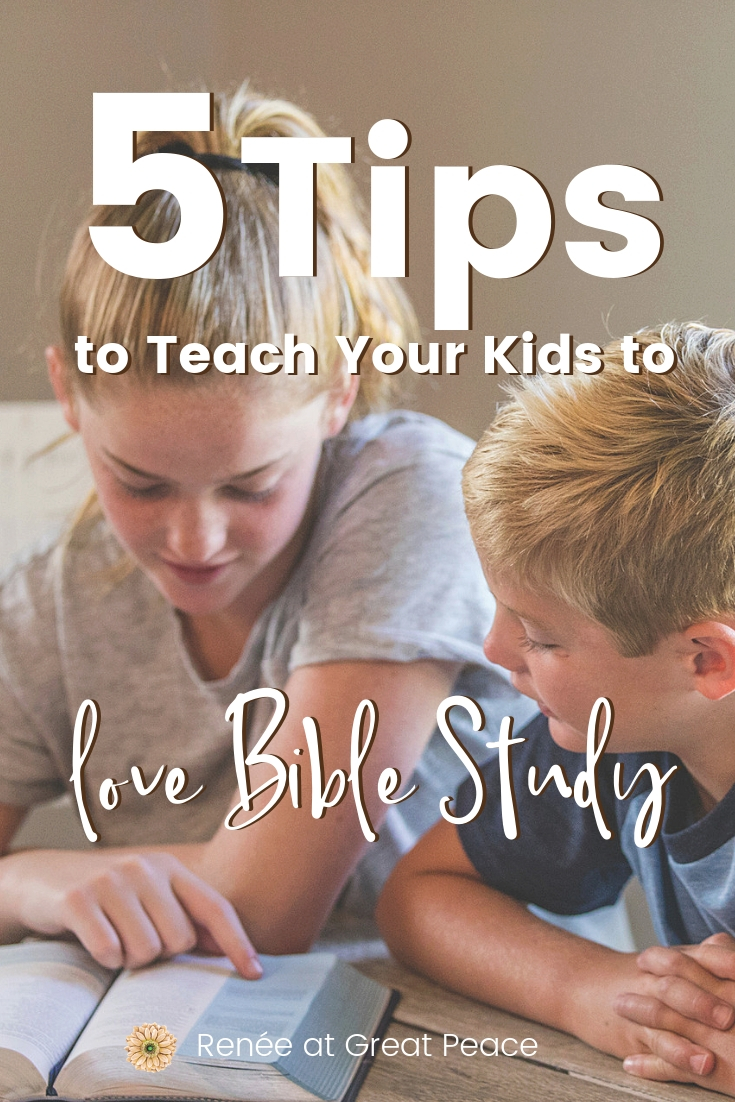 1- Live what you are teaching
 "Let the word of Christ dwell in you richly in all wisdom, teaching and admonishing one another in psalms and hymns and spiritual songs, singing with grace in your hearts to the Lord." Colossians 3:16. 
2- Study to Show Thyself Approved 
As found in the KJV version of 2 Timothy 2:15 we see that our goal is to be approved by God. Jesus said, 
"And you shall know the truth, and the truth shall make you free." John 8:32.
Remember where truth comes from, God's word is truth, John 17:17.
3- Don't Waiver
We read in the book of James 1:6,7.
 "But let him ask in faith, with no doubting, for he who doubts is like a wave of the sea driven and tossed by the wind. For let not that man suppose that he will receive anything from the Lord a double-minded man, unstable in all his ways." 
If we want our children to love God's word, we must believe without doubt, knowing that our doubt will only lead to their doubt. 
4- Teach in Love
If we want our children to grow up into knowledge of the truth, we must speak it in love for their souls. We can learn this from the Apostle Paul in Ephesians 4:15 
"...speaking the truth in love, may grow up in all things into Him who is head — Christ–…" 
5- Be willing to Give an Answer
1 Peter 3:15 "But sanctify the Lord God in your hearts, be ready always to give an answer to every man that asketh you a reason of the hope that is in you with meekness."  
You may not always have an answer to every Bible question. But if you are a Christian, then you should have an answer for the hope you have in Christ. You also should be willing to help your children to study to seek the answers to the questions they have.
You must also have a willing heart to discover His word, His plan, and His righteousness, not assuming you already know. Have an open heart to hear Him when you read the scriptures and allow yourself to be led through the study. You may discover that what you've always thought to be true is really Satan's way of deceiving you in unrighteousness before God. 
I'm not saying that any of this is easy. In fact, it may just be the hardest job a parent has. But if you truly have a love for God, you will seek His will for your life through His word, which is truth.
How can you not then, teach that to your children?
Discover more ways to Train Up a Child
How a Social Day can Prepare Children for Christianity
Training Up: Look Them in the Eye
Training Up in Worship: From Infancy
My Favorite Bible Study Resources:
Acknowledgement:
This post is a part of the iHomeschool Link Up: How to Get Your Kids to Hate____.