Challenging Math Mysteries for Gifted Children
Middle school aged children love a good mystery. At least, my middle school child does. Anytime they have an opportunity to solve something mysterious there is excitement. Couple a love for mysteries, a need for challenges, an ability to think logically and Math Logic Mysteries, by Marilynn L. Rapp Buxton, would be an excellent workbooks for your gifted homeschool resource library.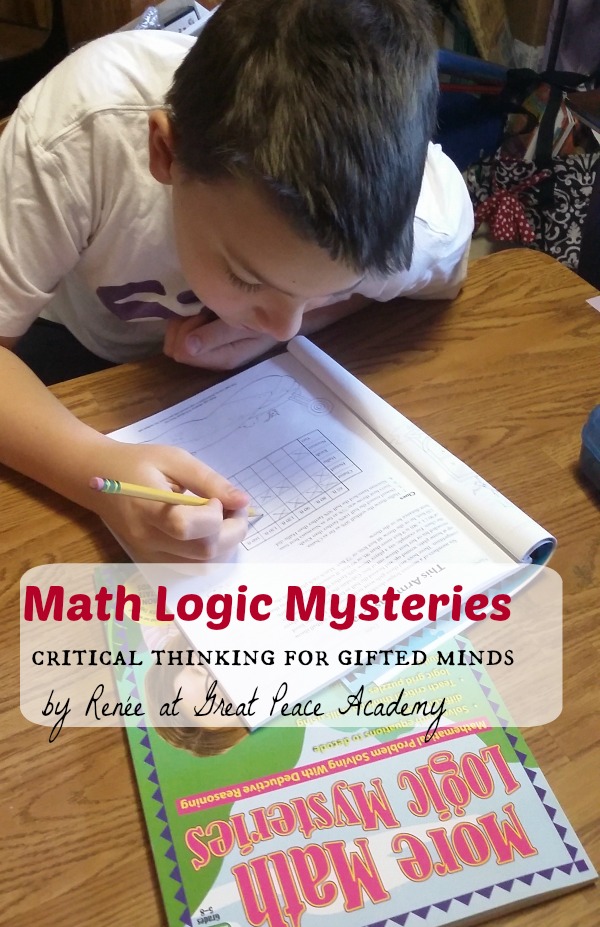 When I first received Math Logic Mysteries, for free as a part of a blog review opportunity, from Prufrock Press I was excited to see how much my son loved them.
The concept is truly simple. Solve some math equations based upon a series of clues to complete a matrix. As you do so the matrix reveals the solution to the mystery. Sound simple enough? The true mystery lies in the fact that the clues require a good amount of deductive reasoning and math problem solving skills in order to reach the mysterious conclusion.
These math clues are difficult and will help to develop skills in math probability, fractions, decimals, percentages, algebra and geometry. But the work isn't the same old, problem solving equations. Instead, it is a fun, challenging word problem puzzle that allows them to unlock clues to solve a math mystery.
Each book offers puzzles for 3 different skill levels and ideas for how to utilize the book to its fullest capacity. Students may work alone, or with a partner, or in a group setting.
Math Mysteries = Important Skill Building
Math mysteries build important thinking skills.
Critical Thinking
Deductive Reasoning
Logical Thinking
Problem Solving
It's important to encourage critical thinking in students who have gifted abilities. Such challenges can stimulate further thought, inspire creativity, or simply engage an otherwise bored mind.  Which may result them finding a greater confidence in their ability to try more difficult lessons, ideas and explore their thoughts more deeply.
There are two books in this Math Logic Mysteries series.
Are you a homeschool mom to a gifted child, especially one gifted in math? Then you need to take a look at these books, or others like them to provide appropriate critical thinking challenges to keep their mind stimulated.
This post is part of the iHN Massive Guide to Homeschool Reading Lists.