This is the second part to teaching Music in your Homeschool. Sometimes the easiest way to include a subject into our learning days is to have a complete music curriculum that guides us through the process. Which is why I'm sharing the top 10 music appreciation curricula that are available to homeschoolers.   
 Homeschoolers need not worry that there aren't music materials available to them. Over the last 20 years homeschooling has grown exponentially. With that comes an amazing market of products to meet every need in your educational journey. There are some wonderful music curriculum that can help you teach the subject regardless of your own personal experience.
 This post contains affiliate advertisement links.
My Music Appreciation Curricula Reviews
I've written a few music curriculum product reviews which might help you to narrow down which ones you'ld like to use for your schooling needs.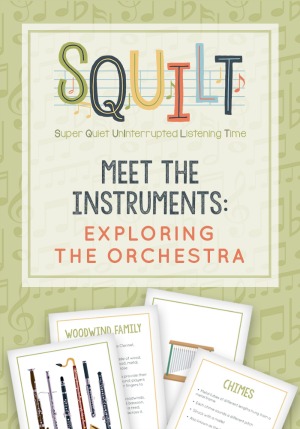 Homeschool Music Appreciation Curricula
I love both SQUILT and Zeezok Music Appreciation products. Because I'm an ecclectic homeschooler I would often pull lesson materials from a variety of scources including Lesson Planet or Khan Academy. So, it's hard for me to say which would be my first or second pick.
SQUILT Music Appreciation teaches students how to actively listen to music and identify the musicality, instrumentation, and dynamics of music.
Gena at Music in Our Homeschool offers a wide variety of online self-paced courses for every age group in homeschooling. You'll love the ease of use and well thought out progression as your students learn to work on their own.
Maestro Classics is a great option for any homeschooler who uses Charlotte Mason's living literature for their teaching method. These are stories set to music performed by world renowned orchestras. Plus, they include parent guides and educational tracks to help you seemlessly introduce classical music to your children.
This Music Appreciation Lesson Plan by Cindy Downes from How to Homeschool Today is for high school students and that would meet the requirements for 1 credit of fine arts.
The Zeezok Music Appreciation for elementary students is based on a Charlotte Mason method that incorporates hands-on learning opportunities for each unit. Use with the Zeezok Companion Readers to fully dive into the lives of the greatest composers and their music.
At Accelerated Christian Education you'll find Music Curriculum for both elementary and high school students.
As is, the free Easy Peasy All in One High School Music Appreciation is worth a half credit on a high school transcript.
Also free are the resources available at Khan Academy – Music. Take your student from music basics to masterpieces from classics to modern and explore the instruments of the symphony as well.
In homeschooling we have the freedom to teach subjects differently than our public and even private school counterparts. If you're not into classical music but want to educate your children in the basics of music you might enjoy the lessons from TeachRock.org. They encompass a wide array of genres and cultures from around the globe.
Another option is The History of Rock and Roll by Tavia Fuller Armstrong. It was created for a homeschool co-op class for high school.
Learn More About Music in Homeschool
---
What ways do you teach music or include music in your homeschool setting?
Whatever way you choose to teach music, whether as an "extra" or as an in-depth study know that music is a wonderful way to encourage a child to develop learning skills. Just listening to music can lead to inspiration and get the ol' juices flowing. I love having it playing in the background because I think it helps my son to focus. 
---
Know someone who Loves Music? Check out these fun Musical Gifts
You May Also Enjoy
---