So yesterday I started sharing the Ultimate Guide to teaching Music in your Homeschool. This is part 2 of a 5 day hopscotch. Sometimes the easiest way to include a subject into our learning days is to have a curriculum that guides us through the process.
Which is why today, we are going to take a look at the top 10 music appreciation curricula that is available to homeschoolers.
This post contains affiliate advertisement links.
My Music Appreciation Reviews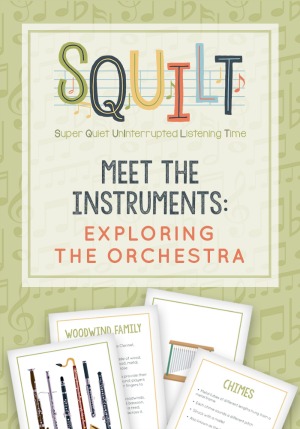 Music Appreciation Curriculum for Homeschool
These are listed alphabetically, not by order of preference. I love SQUILT and Zeezok and we use Khan Academy for many learning options including music.
We have also used Harmony Fine Arts in the past and it's a great companion to any chronological history study!
Plus I will often pull lesson ideas from Lesson Planet so it's hard for me to say which would be my #1 or even #2 pick.
Also, be sure to discover these 31 Music Unit Studies and More Resources that you can use to teach Music Appreciation in homeschool.
5 Music in Homeschool Posts
---
What ways do you teach music or include music in your homeschool setting?
Whatever way you choose to teach music, whether as an "extra" or as an in-depth study know that music is a wonderful way to encourage a child to develop learning skills. Just listening to music can lead to inspiration and get the ol' juices flowing. I love having it playing in the background because I think it helps my son to focus.

Know someone who Loves Music? Check out these fun Musical Gifts
Sign up for your FREE Trial and let your kids learn to play the guitar from the comforts of your own home.
You May Also Enjoy
How to Spark Creativity in Homeschool
The Ultimate Guide to Teaching Art in Homeschool
The Ultimate How to Teach Music in Homeschool Guide
10 Resources for Finding Fine Arts to Explore
This 5-day Homeschool Hopscotch is part of the iHomeschool Network Homeschool Hopscotch and the Top Ten Educational Days Linky Party.