Finding music appreciation curriculum for homeschool can be overwhelming. The options can seem quite limited. 
As homeschooling moms we want to ensure our kids have a well-rounded education. That includes the basics, reading writing and math. But, we also want them to have a more comprehensive education which includes great literature, the visual and musical arts, sciences and technology.
But, often we aren't skilled in some of these areas. That's why I've pulled together tips and ideas for music appreciation curriculum for homeschool. 
This page contains affiliate advertisement links. 
Finding Music Appreciation Curriculum for Homeschool
Here you'll discover information, curriculum, resources, and ideas for how you can easily incorporate music appreciation into your homeschooling routine. I think that's the best way to teach an appreciation of music. Through routine your children will develop their own appreciation, their own likes and dislikes to genres of music. 
But, helping them to learn about the various genres opens their minds to possibilities. This might be accomplished through listening to great music from various styles and genres throughout the school day while your kids are working, or by attending concerts in your local area. 
You're going to discover that a music appreciation curriculum doesn't have to look like reading. Um, really, maybe it shouldn't look at all like reading.
Maybe instead it should look like listening, observing, and participating in music. 
Music Appreciation for Homeschool Posts to Read
Sign up for your FREE Trial and let your kids learn to
play the guitar from the comforts of your own home.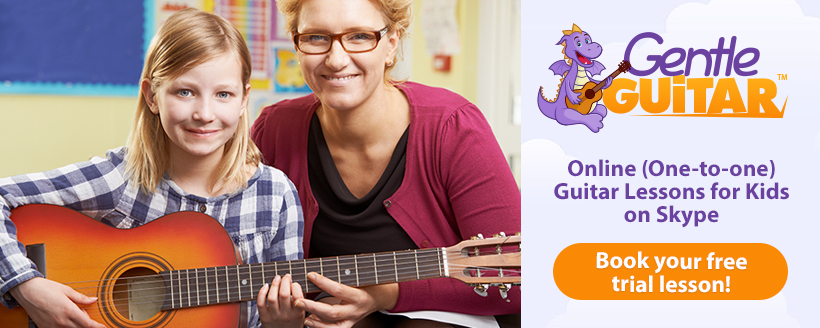 Frequently Asked Questions About
Music Appreciation Curriculum for Homeschool 
What Is Music Appreciation?
At it's core, music appreciation is exactly what it says. It is teaching students to have an appreciation for music. But, that's rather vague isn't it?
The world is full of music, there is music in every culture, and every era of history. Knowing what and how to teach students might seem daunting. But, the real goal is to introduce children to great music. By doing so they'll develop an appreciation for the rhythm and melody of music.
Ultimately students will come to understand and develop their own tastes in what they like and don't like about music. 
Traditionally music appreciation teaches students the history of composers, genres, styles, and methodology of play. But, here's a secret, listening to great music and introducing students to a variety of it can do exactly that. 
However, rather than requiring rote memorization of facts, you can allow them to develop their own interests while gently introducing them to great composers, varied genres and styles.
When they enjoy a piece, or two, they'll of their own curiosity want to know more. That's how you will help them to develop a true appreciation for music. 
Do I have to Teach Classical Music?
In a short answer, no. As a homeschooling mom you can make your own choices for what genres you want 
But, I personally think you should teach or at least introduce classical to your children.
The thing is what many of us today call classical music actually covers three eras of music; Baroque, Classical, and Romantic. 
Classical music often serves as a building block for other styles, and genres of music. In fact, even rock, rap, and hip hop music can trace it's influence to classical form. 
Do I have to use a textbook to teach Music Appreciation? 
No. In fact I believe music appreciation is best learned through listening, observing, and participating in music. Whether your child learns through taking music lessons or your child learns through a study of genres is up to you. 
Through play, students can learn the basics of every genre although it may not always be as obvious. 
That being said, if you are preparing a high school transcript that includes a music appreciation credit you will want to ensure that the course covers enough material to warrant the credit. 

---
Your Turn! Comment Below to Share Your Ideas
What creative ways are you incorporating music into your homeschool? 

These Music Products Make Great Classroom Displays
You May Also Enjoy