Natural cleaning solutions offer you a healthy way to maintain clean in your home without filling your household with toxins. Plus, when you make or source natural cleaning solutions you'll save money and help to keep the environment safe for future generations.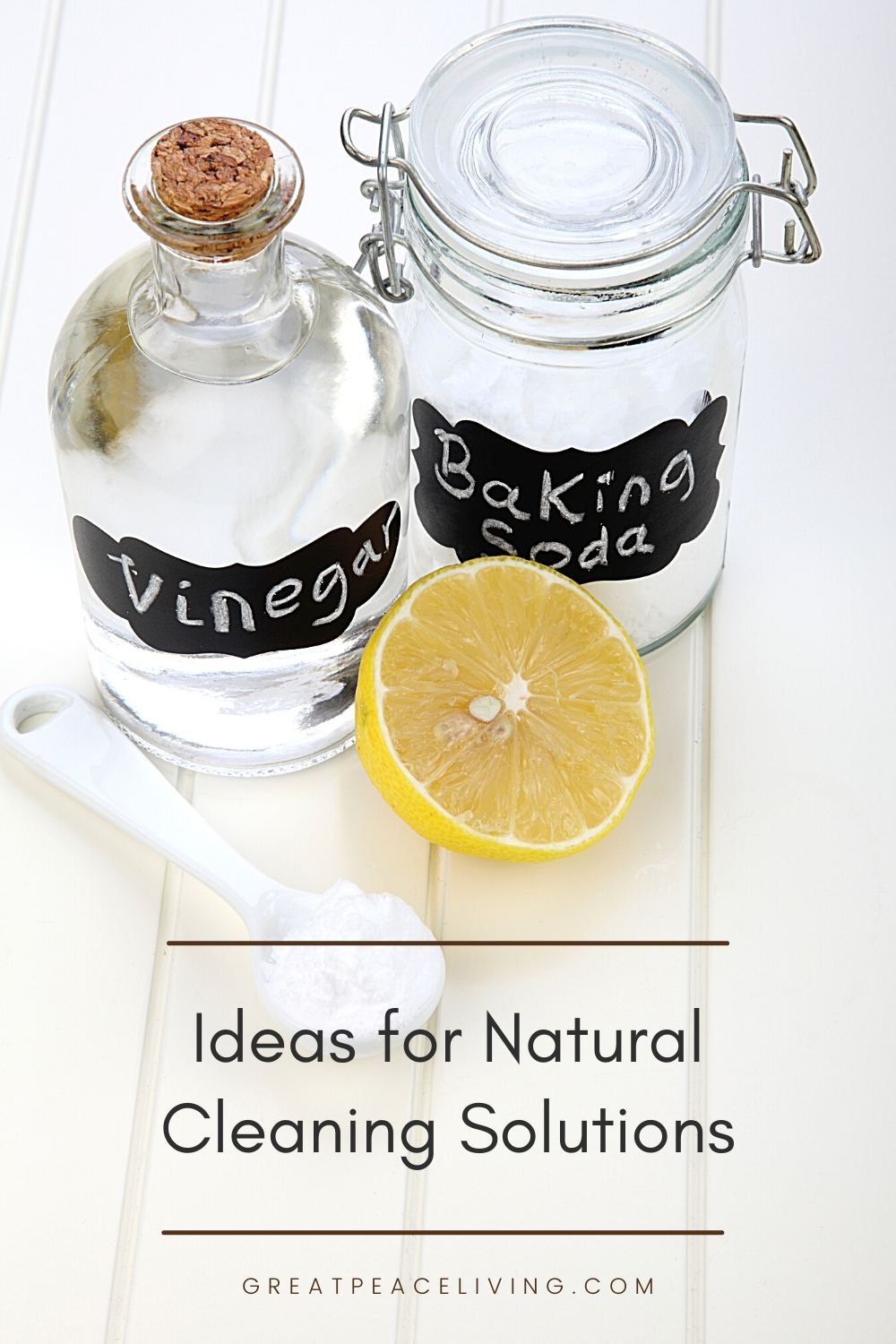 Cleaning doesn't have to be complicated. And, chemically laden, expensive cleaning products are not necessary to have a clean home. In fact, your family will be better off if you don't use them.
This post contains affiliate advertisement links.
DIY Cleaning Solutions for Homemakers
Making your own cleaning solutions isn't as complicated as it sounds. With just a few basic ingredient you keep on hand you can make a wide variety of cleansers.
1 – These simple recipes for 20 DIY Natural Cleaning Recipes from Conservamom is a great way to get you started making your own cleaning solutions. This will save you time, money, and provides solutions for every area of your home, even some solutions that will surprise you.
2 – This Homemade all natural kitchen disinfectant from Craft Bits is one of the simplest disinfecting solutions you can make. It only needs three simple ingredients which are commonly found in your grocery store.
3 – No one wants to discover mold in their home. But, maybe you are wondering how you can clean mold without harsh chemicals. These two Natural Mold Killer Recipe that Really Works from Healthy and Lovin' It is just what you need to keep mold at bay, in a healthy and simple way using simple, common and natural ingredients.
4- Fels Naphta has so many amazing uses. It works in your laundry, kitchen, bathroom, and even in your garden. Learn how to utilize Fels Naphta throughout your home with this post at Oh! Homesteading, Fels Naptha Soap: Here's What It is & How to Use It.
4 – No one likes dirty grout! And, while steaming may work, who has time for that. The other option is harsh chemicals which can make breathing difficult. This DIY Grout Cleaner from Ann's Entitled Life is so simple you probably already have all the ingredients in your kitchen.
5- Did you know it's possible to clean your oven in a completely natural way? It's true, there are a few options, and my friend Laurie at Successful Homemakers gives you all the details on how to do it with her post, How to Clean an Oven Without Endangering Your Life.
My favorite place to get all natural cleaning products is Grove Collaborative. They carry sustainable, healthy, natural products that make it easy to clean every surface in my home. Plus by clicking my link above, or the image below you'll get a free gift set to try for yourself.
6- You can even polish your stainless appliances with this DIY Stainless Steel Cleaner from Family Focus Blog.
7- You can even polish your stainless appliances with this DIY Stainless Steel Cleaner from Family Focus Blog.
8- You can grab this done for you Natural Carpet Freshener. Just sprinkle and let sit for a bit, then vacuum.
9- These Multipurpose Cleanser Bombs are all organic and look as pretty as they'll leave your home clean.
10- You'll love the scents of these all natural cleaners that can be used throughout your home.
---
Discover More Homemaking Tips