I'm always amazed when I watch the birds at our feeders through the winter. Beautiful and tiny creatures that dwell outside in the coldest of temperatures. I know that God provides for them, and has created them to endure the weather.  They build their nest to shelter themselves in even the coldest of winters.
As homemakers it falls to us, wives and moms, to build our nests for winter. We want to ensure that during the weeks, and sometimes even months of sheltering in place that our homes will be a warm and comforting place to be. 
Which is why I'm sharing with you seven ways to nest your home for winter time warmth. 
This post contains affiliate ad links to products that you might purchase from external websites which you may find useful for nesting your own home.
7 Winter Tips to Nest Your Home
Brighten Up with a Little more Light
Winter time is the darkest season of the year. The sun sets so early, but you can add a little light to your home by adding some warm winter glow with a few extra lamps. As evening begins to set in, turn them in a variety of locations throughout the house for a nice warm glow. For example, I turn on a couple of lamps in the living room, a shelf is lined with white sparkly lights, I keep a night light glowing in the bathroom all evening long, I turn on the bedside lamp in our bedroom and a lava lamp in Young Man's room. Adding some candlelight to the dining table or the living room tables will add a bit of warm glow to your home. It's such a low cost and simple thing to do, but freshens up the air and the heart
Stock the Pantry.
Cold weather needs warm comfort food. Be sure to stock your pantry with necessary items to prepare warm and comforting foods. Some ideas are ingredients for making soup, stew, chili, mac & cheese, potpies, loaded baked potatoes. By preparing your families favorite comfort foods throughout the winter months you can bring an extra bit of warmth on a cold winter night.
Keep Supplies Ready for Piping Hot Drinks.
Nothing says love and comfort like holding a mug of steaming cocoa, hot caramel milk, or a hot cup of tea after a day of playing or working in the snow. It'll be memories like that which your children will remember well into adulthood. 
Warm Up the Bathroom.
You can add a little extra warmth to your bathroom by installing a heat lamp or towel warmer. It's a bit of warmth in an unexpected place and will help your family feel loved and cherished in the chilly season.
Make Sure You Have Outerwear.
Take a look at  your family winter gear.  Do each persons gloves, hats, boots and socks still fit correctly? Does your growing pre-teen need a new winter coat or snow suit. Stores are notorious for eliminating winter gear by January so get out there and find the clearance items now, and maybe even think ahead for next year and get it at the lowest possible price. 
Keep Toes and Feet Warm.
Toes tend to get cold, quick. But keep them snug as a bug, with some warm fuzzy socks or easy to slip on slippers. Make sure each family member has a good supply to keep those piggies toasty. 
Layers of Blankets.
Provides a extra bit of extra warmth when needed by lovingly placing extra quilts, afghans, throw and wraps around your home. In addition to adding extra layers to your beds, fold or roll some throws or afghans and place in basket in convenient locations. Also, you can drape them lovingly over the back of a chair or couch or at the foot of beds. These soft bits of layers make the home look cozy and add an extra bit of comfort on a cold winter day.
Nesting doesn't have to be about perfectly clean and orderly, but it is about comfort and warmth for your family. Whatever brings those to your family is what you will want to seek to provide. So let's talk about what nesting things you do for your family? Anything special that makes your family feel warm, toasty and comfortable during the deep cold of winter?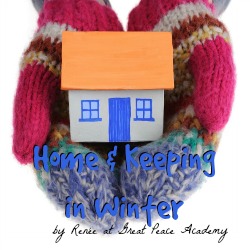 This Home and Keeping in Winter post is a part of the iHomeschool Network Hopscotch.