To say that it's difficult to challenge my math gifted son would be an understatement. From a very early age he has progressed through math as if he has some hidden foreknowledge of how it's all supposed to work. For him, it just clicks.
Over the years I've tried various challenge math options, bought published printed materials for gifted children as well as tried a variety of online math programs that I had hoped would allow him to explore math in a way that challenged his mind. Typically, he will figure out those programs or lessons quickly, progress rapidly and then get bored and will not want to continue.
Disclosure: I received a 3 month free trial of Redbird Math by GiftedandTalented.com and I am being compensated for my time in reviewing the program. I am not required to write a positive review, all opinions about the product are my own.
Online Course for K-7 Math
Last summer I noticed that GiftedandTalented.com is now offering online courses. Knowing that GiftedandTalented.com was started as part of Stanford University's Educational Program for Gifted Youth (EPGY) I was pretty excited by the idea of seeing if it would be a good fit for Jonathan but at the time I was overwhelmed by all that was happening in our lives so I wasn't able to fully explore the options they have available. But, I did bookmark it for further research.
When they presented me with an opportunity to review Redbird Math I was more than thrilled. We were given a 3 month trial for Redbird Mathematics: Advanced Edition (Independent Study) for 7th grade.  
Jonathan has done several algebra and advanced algebra studies before this, and has also worked in geometry and has dabbled with pre-calculus and trigonometry, so it's easy for me to say that he's familiar with algebraic expressions. Yet, for the first time in a long time I can truly see that he is being challenged by the math. Which is a GOOD THING! The problems are presented in ways that make him think differently about how algebra functions.
The program starts out with a What do you know? quiz. This allows the program to adapt to the child's skill level.
As a parent, I can have a separate login which allows me to monitor his progress, see the course description and even adjust the skill level, if necessary. While Redbird Math is a self-paced independent studies K-7th grade program. But, I want to be sure to tell you that GiftedandTalented.com does have other math options for high school students, but only through their tutor supported courses. See the listing below for all the courses offered at GiftedandTalented.com.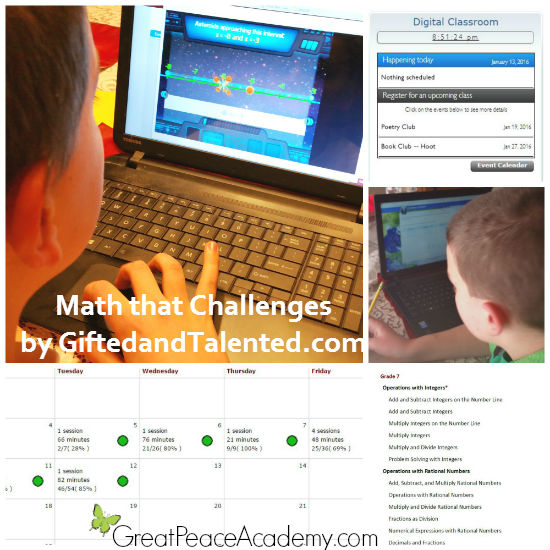 Once the quiz is complete the program leads a child through a progression of skill sets. They simply read the problem, answer the questions and click the check mark to check their answer. If the child needs help understanding there is a ? which inserts step by step instructions to help the child learn to understand the method behind the problem. Though he mostly does his calculating in his head, I like to keep a notepad and pencil near him while he works so he can scratch out any calculations that he might need to.
This adaptive program allows students to be engaged throughout the course using gameplay, and digital project based learning activities utilizing Science, Technology, Engineering, and Mathematics (STEM) concepts. This allows students to understand how math really works in the real world.
What I see with Jonathan is that he's moving beyond memorization and recall of math facts and functions and is having to conceptualize how to use that knowledge outside of a math class. 
One note of warning, because this program is designed to challenge a math learner, you may find that your child exhibits frustration while working on the program. That's why I stay close by while he's working so I can help to diffuse emotional intensity by talking through a problem with him. If I'm not near and he gets overly frustrated then it could lead to an increasingly difficult afternoon.
Try to remember that emotional intensity is very common among gifted children, help them along by teaching some coping skills, and you will find that once they understand whatever it is that is difficult the frustration will subside.
GiftedandTalented.com's Product and Options
There are several options to choose from when considering GiftedandTalented.com's programs, either Tutor Supported or Independent Study.
Students using the Independent study option work at their own pace, parents support students as needed. 
Students who are in tutor supported courses have a dedicated tutor who monitors their progress and can be reached via phone or email if they have questions. They also provide additional support throughout the quarter. Be sure to take a look at all the resources available if you choose a tutor supported course.
Online Course and Studies Available with Pricing
While I have reviewed this program from the perspective of a parent with a child that has advanced math abilities, don't think that Redbird Math is just for advanced or gifted learners. They've designed the program so that students of all skill levels can grow and learn at their own pace. This is especially important for students who may need to grow their math abilities because they are trying to advance their skill level for more advanced math for when they reach high school level.
Need help with truly challenging your child in math? Want to help your child advance their abilities so they are prepared for advanced high school mathematics? Then hop over and enroll today for the independent studies. Use this exclusive code: LEARNMATH to get 10% off enrollment. Apply the code at checkout during the enrollment process. PLUS, They offer a 10% auto discount with each renewal!
Independent Studies – $60 quarterly
K7 Redbird Mathematics: Advanced Edition
EPGY Language Arts & Writing 2nd -7th 
K7 Math & Language Arts Combined – K-7th – $90 quarterly
Tutor Supported Studies – $495 Quarterly
Redbird Mathematics: Advanced Edition Overview K-7th
Epgy Beginning Algebra 8th-9th
Epgy Intermediate Algebra 9th-12th
Epgy Geometry 9th-12th
Epgy Pre-Calculus with Trigonometry 9th-12th
Epgy Calculus A 9th-12th
Epgy Calculus B 9th-12th
Epgy Calculus C 9th-12th
Redbird Math & Language Arts Combined K-7th – $890 quarterly
EPGY Language Arts & Writing Overview 2nd-7th 
EPGY Grammar and Style of the Sentence Overview 8th-9th
EPGY Intro to Physics A 9th-12th
EPGY Intro to Physics B 9th-12th
EPGY Intro to Physics C 9th-12th
EPGY Mechanics 9th-12th
EPGY Electricity and Magnetism 9th-12th
EPGY Intro to C Programming 9th-12th
EPGY Programming in C – Algorithms and Techniques 9th-12th
EPGY Compound Data Types and Advanced Topics in C 9th-12th
EPGY Intro to Java 9th-12th
GiftedandTalented.com offers Live Digital Classroom Sessions
Students can participate in live online classes with their tutors and peers.
The Independent Studies option allows for 1 introductory session.
The Tutor Supported Option includes unlimited digital classroom sessions.
Look for those in the student or parent dashboard, then click and register.
These meetings include things like, Geometry discussions, Book club and Poetry club.
Subscribe to the Giftedandtalented.com newsletter so you will stay up to date on all that they offer on their site. Plus, this is a great resource for families with students who have advanced learning or gifted abilities! Just click the above link, scroll to the bottom of the page enter your email and click Join.
Fun and Games in the Challenge Zone!
Additionally, we love the Challenge Zone! feature that is available on GiftedandTalented.com. These challenges are fun video game challenges that engage students in fun activities while challenging their thinking and reasoning skills. 
Mathscar
Algebra Assembler
Asteroid Blast
Division Decision
Skybot
Under Construction
and more!
Follow Giftedandtalented.com on your favortie social media network to get the latest info, fun facts, and challenging topic ideas for your kids. Check them out here: Facebook, Twitter, Pinterest, Google+, and on YouTube for awesome videos that will get your kids thinking!
Giveaway
 GiftedandTalented.com is giving away 10 3-month subscritions to K7 Redbird Mathematics: Advanced Edition a $60 value. Register now to WIN, because this giveaway ends Jan. 28, 2016!
So what do I really think of Redbird Math from Giftedandtalented.com?
As a homeschool mom,  I love having the ability to outsource math while still working from home.
The parent login feature is truly helpful in allowing me to see his progression and identify areas where he may need a little extra help or pinpoint areas of frustration, so I think that is great.