Sometimes homeschooling looks a bit chaotic. Well, let's face it, sometimes life can look a bit chaotic. Which is why having an online homeschool planner that also serves as an organizer for the whole family is important.
Family life can get complicated quickly. Sometimes it's due to my husband's work and travel schedule. Other times it's because of my son's occupational, and speech therapy. Some days it can feel like we are just ships passing in the night.
There have been times when I've acted as caregiver for my parents and with Beloved traveling we found ourselves in three different locations geographically. 
So, keeping track of school can sometimes be quite a nightmare for us. And, in fact, we sometimes have to continue homeschool into summer as a result of the chaos.
That led me to search for an online homeschool planner that we each could access regardless of where we each were located.
This post is a sponsored review. Which means, I received use of this planner for free for a limited time in exchange for my compensated yet honest review. This post contains affiliate advertisement links. I was not required to write a positive review, I simply write my own thoughts and opinions of how I have utilized this homeschool planner. 
That's when I discovered Homeschool Planet. 
I could see right away that they've taken extra care when building Homeschool Planet as an online homeschool planner to ensure that all areas of homeschooling are organized in one convenient location. On top of that, they've made it adaptable for the whole family so that mom, dad, and students can stay organized with the day to day activities of life.
How To Set Up your Online Homeschool Planner
Using The Homeschool Planet is easy, especially after you get the initial set-up complete. You can create a profile for each member of the family and subsequently each member can access their own calendar profile to manage their day. For us, being an only child family, that means we have three profiles set up on our account.
Set Up your Homeschool Planner Calendar
Use the General Setting to set up the overall functionality of your homeschool planner.
It's ideal to begin by scheduling your days off for the school year. Click the School Year tab, if you are new you can just enter the current school year, then add in which holidays you want to mark on your calendar, some holidays will automatically be marked as days off, but you can simply click the red X to adjust any you want to remove.
Click the Subjects tab to input the subjects your homeschool will have for the year, this is just a general setting, you can include many options, with specific color codes, then later when you are assigning classes to specific students, you can click the subject that matches up with the assignment.
You can also use the Setting Option to set up your grading system, how you want to track hours, and to set up the overall theme of your calendar, you know select the options to make it look pretty. 
That's how simple it is to set up the basic functionality of the homeschool planner. Then you can add in profiles for every member of the family, including mom and dad, and from there you enter the classes, and tasks for each person.
Setting up the Daily Classes and Tasks for your Homeschool Planner
Setting up the assignments for each person is just as simple. With very little work, you can set up classes, daily responsibilities, chores, birthdays, holidays or whatever your family needs are, in just a few clicks of the mouse, and a few keystrokes. I especially love that I can enter information just one time, and the program intuitively carries the details throughout every month of the given calendar, depending upon the parameters I select when entering the information.
Click on the profile of the student. 
Click on Create a Class
Select the Class Subject selected from your pre-formatted subject list that you do in settings. 
Enter a Title: Bible Study Guide (or whatever your study prompt will be). 
Select each student for whom the class will be assigned. 
From the drop-down menu select when the class is to be worked on. 
Then choose the starting date of the class and the ending date for the class, if you choose you can pre-select a time of day also. 
Click save and the program will automatically add that class to each selected students calendar on the appropriately selected dates. 
The cool thing is that you can add specific details to each assignment, along with a listing of materials (i.e. books to use). Weekly, I then can go in and edit the daily assignments with specific lesson details.
Because you are able to customize Homeschool Planet to your family's needs you can set up tasks for every member of the family, whether it's mom, dad or student. The tasks are not limited to homeschooling, it can be chores, or daily responsibilities, appointments, or it can even be dad's daily work schedule. 
Customizing Your Online Homeschool Planner
Speaking of customization, you can completely customize the look, feel and general usage of Homeschool Planet. There is a good selection of backgrounds so kids and parents alike can feel comfortable when viewing their own calendars. 
On top of that you can select from a variety of widgets to add to the side or bottom of your calendar. Widgets include, shopping lists, to-do lists, daily scripture or quotes, weather or even a widget to send messages to family members. You can view the calendar in Day, Week, or Month modes, whichever works best for your personal organization style. 
Now consider this, you set up a profile for yourself, you also might happen to run the local homeschool co-op. You could add co-op specific tasks, project deadlines, and so much more to your own calendar thus making your homeschool planner function as a co-op organizer. 
That's not all, maybe you, like me, are a blogger. If you utilize your profile calendar as an editorial calendar you've taken Homeschool Planet from a homeschool planner to a blogging planner wit just a few clicks of the mouse. You could use it to organize a Bible class that you teach or community project you are working on. The possibilities are endless.
On top of that, dad can utilize Homeschool Planet as well. Not only can the family track his work schedule but he can use it as a personal work planner, a place to track work assignments, tasks and projects which may be due. 
15 More things You Should Know about this Digital Homeschool Planner
Homeschool Planet works as an all-in-one life organizer and records tracker for your homeschool. Whether it's sports, doctors appointments or outsourced classes that keep you busy, Homeschool Planet will serve as your easy to use, gentle reminder to keep you organized.
1- You can upload files directly to The Homeschool Planet; add pdf, word docs, directly to a a class assignment. Then the student can view or print the material from the assignment page. 
2- Lesson Plans, calendars, to-do lists, and shopping lists can be printed for a hands-on use. You can view the calendar for all students (family members) or a single student at a time.
3- The Homeschool Planet serves as more than just a planner it's an all-in-one homeschool record keeper allowing you to track grades, hours and attendance records. It even incorporates a school transcript option.
4- The built in side widgets allows you flexibility in organizing, with shopping lists and to-do lists right there, you can easily add a chore to a family members daily tasks list.
5- Another one of the built in widgets allows you to send direct messages to each family member either via email or text. This allows you to quickly send a reminder or an update or even just ask your husband to stop and pick up a gallon of milk on his way home.
6- There is a rescheduling helper to manage days and/or lessons missed, simply reassign the lesson to another day, and manage lessons without ever feeling like you or your student are behind.
7- You can send daily or weekly reminders automatically to each profile. Each profile has an opt-in option for daily or weekly email reminders, as a homeschool mom, you can include all of the students in your personal reminder so you can see what is on each student/family members daily agenda. 
8- Homeschool Planet can be synced with Google Calendar or other calendars that allow for syncing. (This is my husband's favorite feature because it works with his company's calendar system.)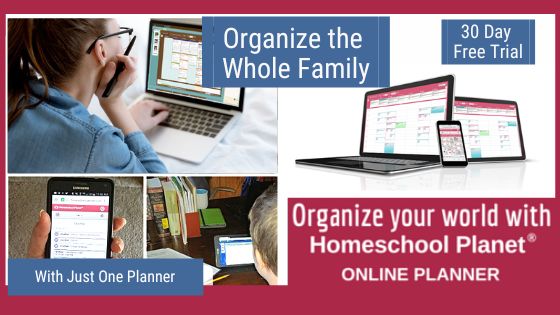 9- You can use a Google search feature right inside the planner. Which is a great feature for kids doing research projects inside their own log-in, or you can use it to search curriculum and book titles you want to add to the lesson planner.
10- Utilize the To-Do Widgets to set up your meal plan. 
11- Keeps your homeschooling records, and attendance tracking all in one place. 
12- Plan out your entire year, or even lay out the scope of your child's 4-year high school plan.
13- The widgets include a feature for inspirational quotes of the day, or, verse of the day.
14- The planner even includes a grading record.
13 – Create unlimited shopping lists, for groceries, household necessities, clothing and more. Then, text the list directly to your cell phone to have on-hand while you shop.
If you need help figuring out how use Homeschool Planet, they provide excellent walk through help tutorials.
---
My favorite feature is that I can utilize this homeschool planner from anywhere, and from any device.  I've accessed it using not only my computer, but also my Samsung Tablet and my Samsung smartphone, both Android based devices.
Which has certainly made it easy for both myself and my Beloved to be fully aware of what our son needs to accomplish on any given day. It also allows him to take ownership of his own daily schedule and manage his subjects in whatever way seems best to him.
I love this planner so much, that after my trial period ended, I continue to subscribe so that my family and I can stay up-to-date on everyone's schedules, tasks, and of course homeschooling.
Don't just click away, give Homeschool Planet a try today.