Whether you are studying the U.S. Presidents as part of American History or an Election, President's Day, or Inauguration Day Unit Study these Presidential Facts Notebooking Pages are a great addition to any lesson plan.
This post contains affiliate advertisement links.
A few years ago my son was studying American History using America the Beautiful from Notgrass Publishing. I love how they weave literature study into each era of American History. It's a unit study and incorporates Bible, Literature, vocabulary, creative writing, mapping and timelining.
I wanted to enhance the study a bit by letting him study a bit about each President as we progress through history and let him explore a little about them as we go. He learned to name them as a list and their order of succession several years ago, but I don't just want him to be able to say them. I want him to have an understanding about each of their lives and some basics about what their presidency was like. 
So I came up with these Just the Presidential Facts Notebooking pages. As he reads about each one, he can jot down some facts and information that he finds to be interesting. 
Another way to approach a a study of the presidents is when you dive into American Civics. I recommend using Uncle Sam and You, also by Notgrass Publishing, which is written for middle school aged students. These pages are appropriate for use with civics as well. 
Each Inauguration Day on the 20th of January following a Presidential election year, at high noon eastern time, a new President of the United States of America is inaugurated as the Commander in Chief of the United States of America.
Whether you just want your students to get more familiar with an incumbant President or review all of them, these pages will help you do just that. 
Whenever there is a new inauguration I update the Presidential Facts Notebooking Pages to include the most recent president in the package.
Using these Presidential Facts Notebooking Pages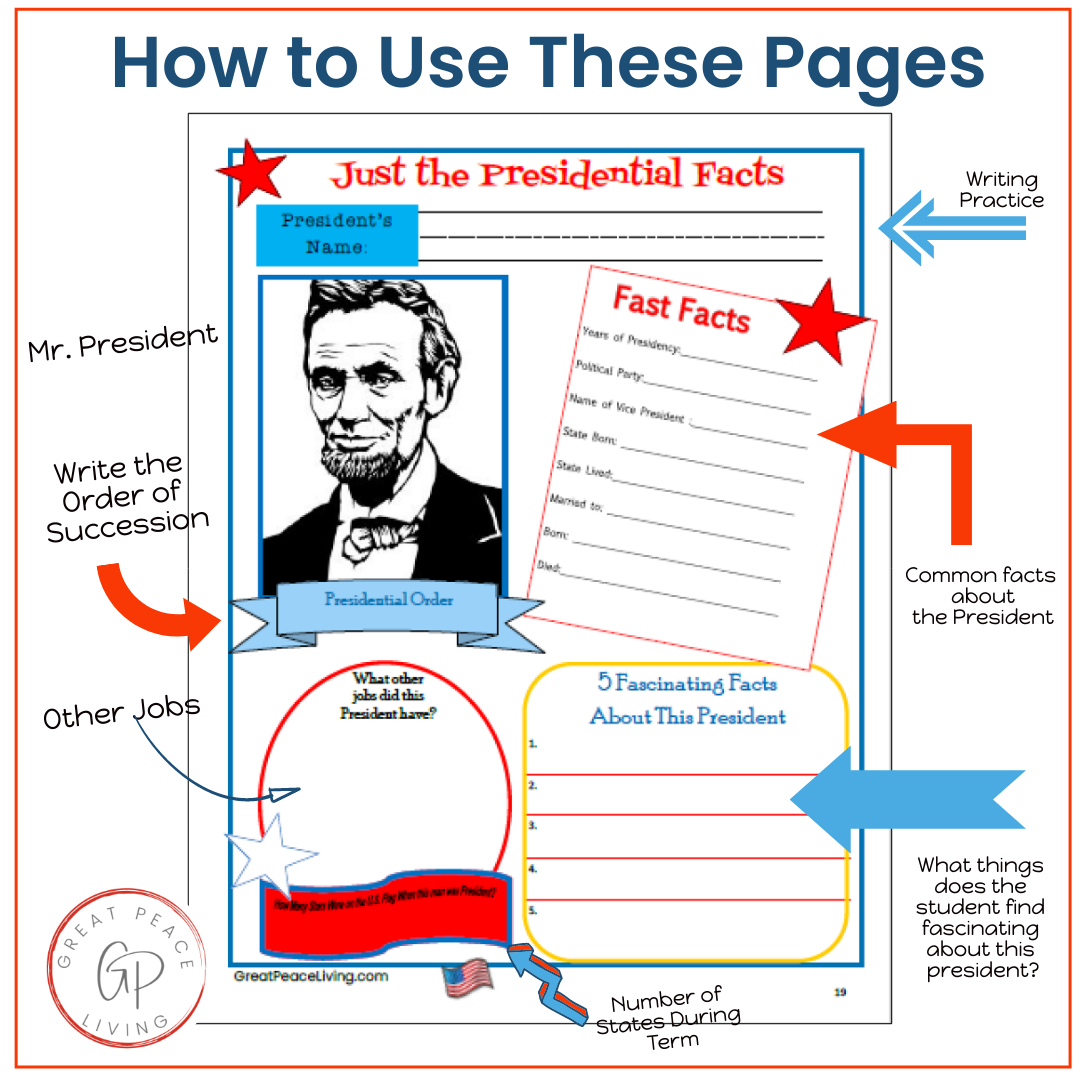 With these notebooking pages you will find one page for each of the 46 U.S. Presidents. 
Each page has a sketched drawing of each of the presidents.
There is a space for your child to write out the president's name for writing practice. You can have them either write it in print or cursive depending on your child's skill level. 
In the Fast Facts section, you can have your child write in basic facts about each president. 

The number of years of their Presidency.
Write in the name of their Political Party.
Write in the name of their Vice President.
Document the state where they were born.
Document any additional states they may have lived.
Write the name of the person to whom they were/are married.
Document the dates of when they were born and when they died.

Five Fascinating Facts, you can have your child select five interesting things about each president and write them in the section provided. Facts like, George Washington's false teeth, or what happened to the White House while James Madison was president.
There is a section to document the number of states which were in the union during their presidency.
A place to document the presidential order of succession, such as Abraham Lincoln was the 16th president and Barack Obama the 44th president, etc.
There is a space to document any former employment that each president had. 
I included some links at the beginning of the printable for web resources for you to use to help your child research information about each president.
To get your FREE Download, simply subscribe to Great Peace Newsletter, follow the subscription prompts, and look for the printable link and password in your welcome email.
12 Additional Resources to Enhance your Presidential Facts Unit Study
Recipes & Food to Celebrate the Presidents
Books for Studying about U.S. Presidents
Toys, Games & More for Learning About the Presidents
Have you studied the US Presidents with your children? What were your favorite facts? Which President was your son or daughter most fascinated by? Let me know in comments, especially if you have a fantastic resource to share with others.
 
You May Also Enjoy