Marriage Moment: Love in the Marriage Bed Part II
Last week I started a series for learning about the purpose of the marriage bed. This week I want to look forward to how to prioritize your relationship in the marriage bed. This means we are going to look at how and why joining with your husband, often, as one,  is important, with tips for how to make it a priority.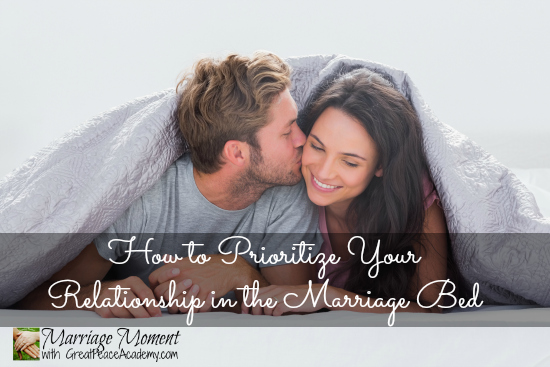 This post contains affiliate links to 3rd party sites where products may be purchased,
such sales may result in paid compensation to this blogger.
Setting Your Priorities for the Marriage Bed
The Apostle Paul gives clear instruction for how we are to treat our spouse when it comes to love in the marriage bed. One of the purposes of marriage is to prevent us from living an immoral life.  
"Nevertheless, because of sexual immorality, let each man have his own wife, and let each woman have her own husband. Let the husband render to his wife the affection due her, and likewise also the wife to her husband. The wife does not have authority over her own body, but the husband does. And likewise the husband does not have authority over his own body, but the wife does. Do not deprive one another except with consent for a time, that you may give yourselves to fasting and prayer; and come together again so that Satan does not tempt you because of your lack of self-control." 1 Corinthians 7:2-5 NKJV.
When we learn to prioritize our sexual relationship with our spouse, we begin to prioritize that relationship outside of the bedroom as well. It is through that joining together that we will begin to treasure the companionship, we build trust and we learn to put the needs of the other above ourselves. We see this reflected in the above passage, "The wife does not have authority over her own body, but the husband does. And likewise the husband does not have authority over his own body, but the wife does."
Remember the passage from Ephesians 5:28,29 
"So husbands ought to love their own wives as their own bodies; he who loves his wife loves himself. For no one ever hated his own flesh, but nourishes and cherishes it,…" NKJV
Let's consider both of these passages in the context that exists within the interrelationship of the marital bed. He is to love her and cherish her body not for his own gratification, but rather, in understanding that her body is not her own, but his. He is to love her as he does his own body, and he should then seek to meet her needs, both emotionally and sexually.
She too, recognizes that her body is given to him. Through trust she allows him to lead her through the passion that exists in the marriage bed, fulfilling her physical need.
By the same demonstration, he, giving his body over to her, allows her to love him, cherish him, sexually. She shows passion for his body, thus fulfilling his physical need.
This is how love can deepen beyond companionship, because it is here, that a couple can learn to meet the needs of the other. The symbiotic relationship of seeking to love the other, cherish the other within the bed, creates a stronger bond of unity that extends beyond the bedroom, and is carried throughout their life together. 
Learning to separate our daily struggles from the harmonious marital liaison, is difficult. We, especially women, get caught up in emotional things. Sometimes those emotions are valid, sometimes they come from our own insecurities. Admittedly, there are difficulties in life that may create stress making it difficult to join physically, other times there may be physical impairments that make it difficult to be one.
When we get in that place that the emotions are so strong that we allow it to interfere in our sexual joining, then we should seek to go to God in prayer. Seek God for comfort for the emotional overwhelming-ness that we find ourselves in. But, as Paul said in Corinthians, "Do not deprive one another except with consent for a time, that you may give yourselves to fasting and prayer…"
But he also warns, "…and come together again so that Satan does not tempt you because of your lack of self-control." 
When we fail to rejoin our husbands as one, we set ourselves and our loved one up for temptation, that can lead to lack of self-control. We must be careful.
But the question may come, How do we practically make a determined effort to prioritize that aspect of our marriage?
It's a valid question to ask, especially for parents of small children. 
5 Tips for How to Prioritize the Marriage Bed
Start with being mindful of your kisses. 
Too often, after the period of marital honeymoon is over we fall into a routine of a peck here or a peck there, a quick kiss goodbye or hello. When you choose to pay attention to your kisses, when you choose to be aware of the importance of every kiss, when you learn to kiss with purpose, you'll soon be reminded to pay attention to the other important role of your physical relationship.
Keep Track
Similar to how a woman tracks her menstrual cycle, keep track of how often you come together physically with your husband. Simply making a mark on the calendar allows you to know when you have engaged with your husband. The mark doesn't have to be obvious or even known to anyone else. It simply stands as a reminder of how long since you last touched as husband and wife. I'm not suggesting scheduling your time together. I'm suggesting using this simple tracking method as a way to not allow too much time to pass before you are with each other. Once you see it's been more days than you or he prefer, then consider how/when you can rejoin each other as one, and prioritize that time.
Prepare Your Bed


Make your bed, everyday. Having a clean, orderly, and ready-made bed is always more inviting than a rumpled bed piled high with dirty laundry.
Spend just 5 to 10 minutes each morning putting your bedroom into order, then if you must, close the door to keep it looking fresh. Doing this simple routine, shows your husband that you are prioritizing your marriage bed, your sanctuary from the world, as a special place.
Is your marriage bed comfortable? A place both you and he long to be? For just a few bucks you can buy a memory foam mattress topper, making even the hardest and worn out mattress more comfy.
Splurge a little in the budget for soft comfy sheets. I personally love 1000 thread count Egyptian cotton. Why? Because when I put them on my bed, my husband always comments about how soft they are. I too think they are soft as silk. 
Is your bed and bedroom a cozy retreat for both you and your spouse? Let's face it girls, you may love bright pink flowers on your bedspread, but does that speak to your husband's masculinity? Remember that the room isn't just yours. Go shopping together and see what types of fabric he gravitates toward. Make your space a space that he longs to be.
Is there soft lighting in the room? Consider that men are visually stimulated. God created YOUR body for HIM. Soften the lights and let him have the privilege of looking at you, his bride.
Consider the way the room smells. Essentials oils are readily available and some are marvelous stimulants. Do some research, in fact, you can find some information on this in scripture. One such place is: 


"Your plants are an orchard of pomegranates With pleasant fruits, Fragrant henna with spikenard, Spikenard and saffron, Calamus and cinnamon, With all trees of frankincense, Myrrh and aloes, With all the chief spices—" Song of Solomon 4:13,14 

Consider how you Look
Yes, I understand that when you are home alone with kids all day it's sometimes hard to get a shower. Sometimes you walk around with puke on your shirt because a kid threw up on you. Sometimes you just are making it moment to moment. Your husband loves you! He loves how you take care of your children. 
But, take a moment to consider what might be attractive, to him, not the world's perception and when you seek to entice him as your beloved take a few moments to freshen up. Change your shirt, put on a comfy skirt instead of sweats, brush your hair, your teeth, and add a smile. I recommend when you straighten the bedroom in the morning, set out an extra t-shirt or blouse, a skirt or jeans, something that allows you to freshen up. Then before he arrives home take a couple of extra minutes in the bathroom to freshen up. He may not notice the first day, or even the second. But, he's gonna one day say something unexpected like "Honey, are doing something different with your hair?"
And what are you wearing, ahem, under there?
Wearing pretty underwear will help you to feel more attractive, more sensual, and when he discovers what you are wearing, it will be worth the extra time it takes to prepare for him.
My point is that in order to prioritize anything in your life, you must give careful consideration to it. Being of an active mind regarding your husband and your physical relationship will motivate you to take a more active role and you'll most likely discover that he will respond in a more affectionate way.
When you spend time preparing your room, remembering to kiss with passion, considering how you dress to please your man, you also will be preparing your mind and your heart to be ready for and accepting of the intimacy within the bedroom.
Take my 5 Day Marriage Challenge to help Kickstart this new way of thinking about your role.

Marriage Moment: Understanding the Purpose of the Marriage Bed | Reneeatgreatpeace.com #marriagemoments #wifey #marriage #loveyourhusbands
Don't Miss This:
Marriage Bed Series Part 1: Understanding the Purpose of the Marriage Bed
You May Also Enjoy
Love what you are reading? Subscribe to Marriage Moments with Renée to stay up to date on all Marriage Moments and other family life posts.
[yikes-mailchimp form="1″ submit="Submit"]
Pin Here