When it comes to being a teenager, life can seem complicated. After all, things begin to change once you become a teenager. You aren't quite a kid anymore, but you aren't quite an adult yet either. I have put together some quotes for teens to memorize that can serve as both a motivator and reminder that teenagers matter too.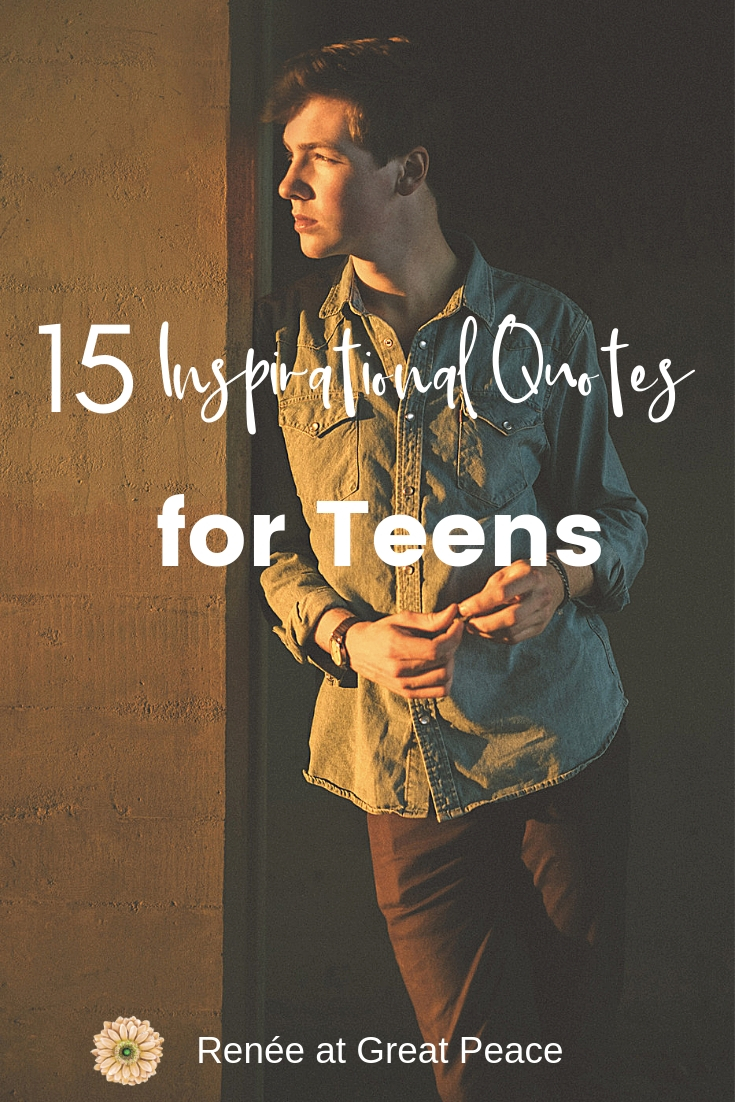 Growing up is never easy and that is especially true when you reach the teen years. From starting a new chapter in their education to mounting responsibilities and freedoms, sometimes teenagers need a little encouragement to keep them on the straight and narrow.
This post contains affiliate advertisement links.
15 Quotes for Teens
A great way to utilize these quotes is to right click, and print the photos and pin to their bulletin board. Or, write them down and use a dry erase marker to write them on your teen's mirror, a chalkboard, or notebook. 
And don't forget share to your Facebook and tag them!
"You never know how the tough times you are going through today will inspire someone else tomorrow." ― Tim Tebow
"You can't cross the sea merely by standing and staring at the water." – Rabindranath Tagore
"How can a young person stay on the path of purity? By living according to your word." — Psalm 119:9
"Tough times never last, but tough people do."– Robert H. Schuller
"When everything seems to be going against you, remember…the airplane takes off against the wind, not with it." – Henry Ford
"To succeed in life, you need three things: a wishbone, a backbone, and a funny bone."– Reba McEntire
"We need to learn to be content and thankful for what we have rather than letting our hearts be filled with greed and jealousy." — Jeremy Sprouse, To Train Up a Knight
"If there's one thing I've learned, it's that God is a very creative author, and He writes a different story for every person. No two lives or stories alike." — Robin Jones Gunn
"We all have a choice, after all, to be our own person, to be the person we wish to be." ― Melanie Dickerson
"Being confident means believing in yourself. Ego means needing to prove that you're better than other people." — Barbara De Angelis
"When we chase validation instead of sanctification, we never find a reprieve from our own self-doubt." — Kayla Aimee
"Be strong and courageous. Do not be afraid or terrified because of them, for the LORD your God goes with you; he will never leave you nor forsake you." — Deuteronomy 31:6
"The future belongs to those who believe in the beauty of their dreams." – Eleanor Roosevelt
"Always be a first-rate version of yourself, instead of a second-rate version of somebody else." – Judy Garland
"Courage doesn't always roar. Sometimes courage is the quiet voice at the end of the day saying, 'I will try again tomorrow'."– Mary Anne Radmacher
These  quotes for teens to memorize can not only help them to move forward in life but give them the courage to be themselves. 
What are your favorite quotes for teens?

Get These Items to Inspire Your Teen
Be sure to see: