With everyone home right now. Moms everywhere want simple, refreshing dinner ideas that include a bit heartiness for your dinner but you sure don't want something that takes all day to prepare. That's why salads make for perfect refreshing family dinner ideas when the hottest days of summer are upon us.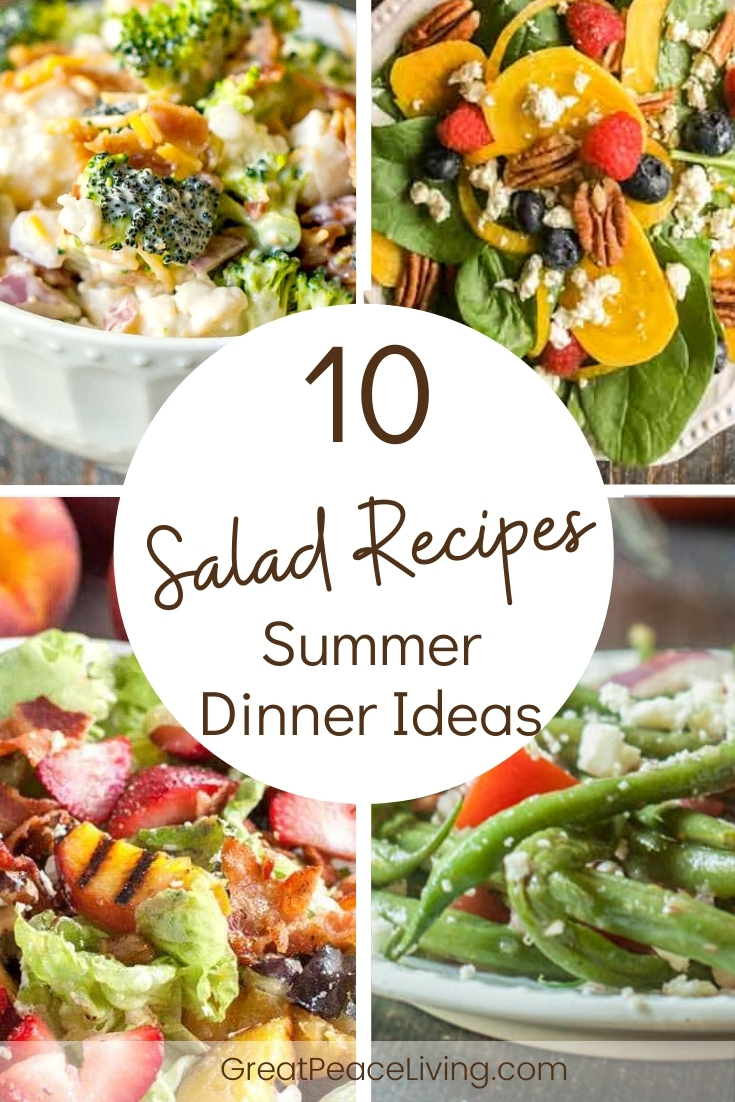 Salads are great any time of the year. But, when you've got little ones underfoot and the kitchen is swamped with everyone gathered at the same time. Salads and dinner go hand in hand.
You can get everyone involved in making salads. Little ones can tear lettuce leaves or crumble feta cheese, while older kids can chop veggies. It's fun to get the whole family working together to prepare a meal. And, that makes the best family dinner idea when everyone can work together.
This post contains affiliate advertisement links.
There are a variety of salads in this list below. You'll find several that your family will enjoy.
10 Refreshing Salads for Lunch or Dinner
Strawberry Quinoa Salad by Caroline's Cooking

Strawberries are synonymous with summer. Those sweet and luscious ruby red berries are just so good. Pairing them with quinoa takes them to a whole new level of summertime goodness.
Asparagus Balsamic Fettuccine Mason Jar Salad by A Cultivated Nest

For me nothing says summer quite as much as the sweet and savory flavor of balsamic. This salad recipe is made for a jar to make ahead for lunch. But there's no reason why you can't just serve it up in a bowl to your family at dinner time.
Loaded Low Carb Broccoli Cauliflower Salad With Bacon by My Life Cookbook

I've been working hard to stay on a low-carb, low-glycemic eating lifestyle. It's not always easy when other family members aren't. But, with this broccoli salad no one will be complaining because they won't even realize they are eating healthy!
Keto No Pasta – Italian Pasta Salad by Crafty Morning

Don't let the title fool you. This recipe is packed with flavor! It's all the flavors you love in a pasta salad without all the carbs that pasta brings. You can skip the carbs and still enjoy the flavor. If your family feels like they just have to have the pasta it would be so simple to just stir in a 1/2 cup of cooked rotini.
Greek Green Bean Salad by My Life Cookbook

This green bean salad is delicious and refreshing. While it perhaps is best suited as a side dish than a stand alone dinner, you can add some sliced, grilled chicken to it for a simple, complete dish. In fact, I'd suggest slicing some chicken breast from a grocery store rotisserie chicken for an even simpler meal prep.
Mediterranean Chickpea Salad by A Simple Pantry

When I heard the term Mediterranean in a recipe I immediately think of summer! This hearty chickpea salad is loaded. Your family will love the textures. And, it's sure gonna fill them up with both chickpeas and couscous in the mix.
Mexican Street Corn Salad by Caroline's Cooking

This mouth-watering salad sure does pack in the flavor! The star of the show being the grilled sweet corn coupled with the texture of black beans and the luscious goodness of crema… oh, man my mouth really is watering just thinking about it.
Pickled Beet & Gorgonzola Spinach Salad by My Life Cookbook

Ok, seriously I can't even begin to tell you how much I love pickled beets. My husbands grandma made the best canned pickled beets and just thinking about them makes me crave them. (I think I'll need to pull out her recipe).

Anyway, I love adding beets to a fresh garden salad so when I saw this one paired with spinach and Gorgonzola I just knew the flavors would be so good. And, it does not disappoint! Her recipe uses yellow beets and her own pickled beet recipe but you could certainly used canned beets from the grocery.
Black Bean and Corn Salad Recipe by A Simple Pantry

Another black bean and corn salad this one is also a recipe that can be jarred and taken to lunch.

But, here's what I'd do to make this a great dinner time meal. I'd make it up and keep several in the fridge. Then when I wanted to use them, I'd serve it over some romaine lettuce with some cooked chicken on top.
Grilled Peach and Bacon Salad by Tastes of Lizzy T

Oh my! Sweet summer peaches, strawberries and bacon, what a wonderful combination of flavors. When peaches are at their peak of flavor be sure to add this salad recipe to your family dinner plans.
There you have it, 10 refreshing family dinner ideas that use salads for a refreshingly simple meal.
Of course you will want to pair your salad with a refreshing summer drink.
I love lemonade, and True Lemon lemonade packs have the perfect balance between sweet and tart, and are delicious and they are low-carb with no sugar.
What is your favorite salad?
---
Check out these MUST READ Family Dinner Ideas