Set Your Minds from Home
Mom's will most often put the needs of their child above their own need. It's a mother's nature. I had found that doing that on Sunday morning, the rushing about to ensure my child had what he needed, clothing, breakfast, hat, gloves, bible, etc. often left me feeling less than prepared to worship the Lord.
Having been convicted that entering into the assembly with little thought for the worship was no way for me to Honor the Father and subsequently I realized I was not setting a proper example for my son. My entire goal for him is to teach him to love the Lord, to serve Him with his life and to seek the Lord with all of this heart. My role as his mother is to help my husband to train him up so that he will have the foundation he needs to reach his life goal of a heavenly home with his Heavenly Father. 
With this goal in mind for my entire family, I now seek to help my husband to prepare our family both physically and spiritually "to go up to the mountain of the Lord." We seek to be taught His ways and walk in His paths, Micah 4:2. When we approach the assembly of worship our aim is to focus our hearts and minds on praise of the Father, to honor and glorify His Holy Name. 
Bible Study and prayer are both integral parts of our family and our individual lives. We teach our son the importance of writing God's word upon his heart, talking to the Father in prayer and honoring Him with his life. We do this through both instruction and example. While we aren't perfect, we do endeavor daily to set an example of sanctifying God in our hearts.
Download Scripture Cards for the entire Set Your Mind Series.
In our home we study God's word, nightly as a family. We study individually for personal growth. Little Man and I study together in homeschool each day that we have school.  All of this study leads to helping us to prepare to go into worship with a right might. 
As a wife and a mother, my role in life given by God from the very beginning is to be a helper to my husband. (Genesis 2:18) I am both thankful and honored by this role. This very role is reiterated in the New Testament. 
Preparation Tip #3: Preparing Breakfast
Considering my God-given role in the family and knowing that Proverbs 31:15 teaches me to rise and prepare food for my family, I bring you my third tip which is preparing for breakfast.
As mom's we so often skip breakfast for ourselves on Sunday morning. But whether we eat or not we prepare food for the little ones. Many times it's a struggle. A last minute grab a bowl of cereal or a banana. What I have found for me is that this scattered last minute mentality doesn't leave my mind clear and ready when I arrive at the worship assembly. In fact, since I had so often skipped breakfast entirely it became difficult to focus on anything other than the next meal. 
So I began to purpose the night before what I would prepare for breakfast of the Lord's Day. But I must admit I am practical. I am not one to rise up early. A big sit down breakfast was not something that would work for me. Many times we found ourselves stopping at the conveniently located McDonald's for some Egg McMuffins. There isn't any thing wrong with doing that. In fact we still do so whenever I fail to be prepared.
But I also realize there isn't anything that McDonald's serves for breakfast that I can't make at home with minimal prep work. So with that in mind I set out to recreate, easy to make and take breakfast meals. I am listing a few of them below.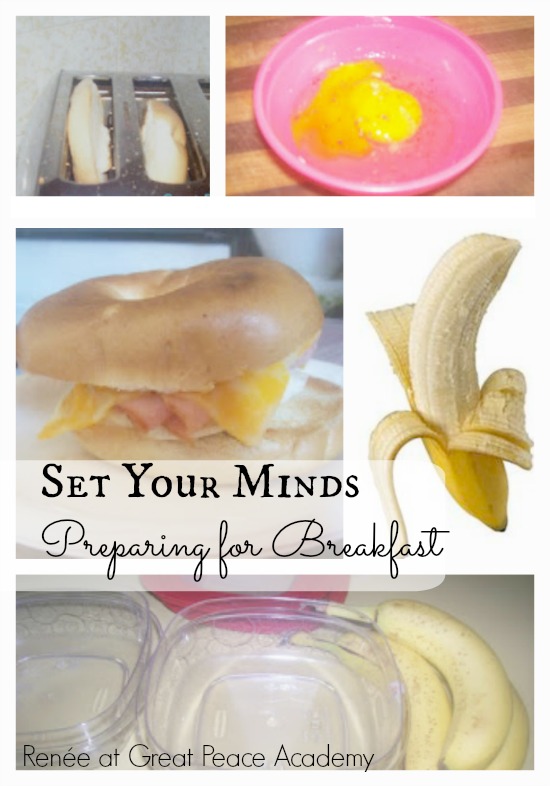 Saturday night I prep the coffee pot. I am a coffee drinker, Beloved is not, he is a Pepsi drinker, so whenever possible I try to make sure there is cold Pepsi in the fridge. I set out a take along coffee cup, a cup with lid and straw for Little Man's juice or milk. I also set out covered containers that I can quickly add a sandwich, burrito, cinnamon roll or fruit into, and then we take those containers along with us and eat in the car on the way to Bible class. Since I control how the food is prepared the meal has less oil and better seasoning and is costing my family less money than the fast food drive through. 
Quick Breakfast Tip
I often use 3 handy kitchen appliances on Sunday mornings.
The Microwave
An Electric Skillet  
A Toaster 
Each affords me a little freedom to multi-task while breakfast is cooking without too much concern that the item will burn.  
Quantities vary depending on how many you are feeding. We have a small family so you may need more.
[yumprint-recipe id='17']
More Quick and Easy Breakfast Ideas
To make these quick and easy, brush a little olive oil in a small bowl. break the egg into the bowl, use a fork to pierce the yolk, add salt and pepper. Cover bowl with a paper towel then microwave on high for 1 minute. Then transfer the egg to whatever sandwich bread you want.
Ham, Egg and Cheese on an English Muffin
Bacon, Lettuce, Tomato and Egg on Toast
Toast with Sausage Patty and Egg
Egg and Cheese on a Bun
Chicken Biscuits (Use leftover chicken and canned biscuits.)
Sausage Biscuits (Use sausage patties and canned biscuits.)
Steak and Egg Bagel with Mayonnaise (Whenever I have leftover steak, I slice it thin and freeze. It's easy to pull out and warm up in the electric skillet.)
For my picky eater son I make him a ham and cheese, or sausage and cheese sandwich. I don't reinvent the wheel but just eliminate whatever item he doesn't like, in this case eggs.
Sausage Links with Fruit

Frozen waffles, with a side of sausage links. Toast the waffle in the toaster, fry up the sausage links in the electric skillet or even the night before and just warm them in a microwave. Instead of covering with syrup which isn't conducive to eating on the go, cover with fresh strawberries or banana slices and make it a sandwich. Yum! 
I'll heat sausage links in the electric skillet while I'm getting ready, slice some apples or bananas, throw some bread in the toaster then spread a little jam on top and you have a nice quick breakfast.
In a pinch a bowl of cereal is always good, whether it's dry, with milk or even yogurt. You can also add in a piece of fruit. Keep in mind your timing. Milk in cereal in the car isn't a great idea, but yogurt and cereal in the car is o.k. or you can serve dry cereal with a travel mug of milk on the side. Cereal meals can be set out the night before in to go containers and then add the yogurt in the morning. Slice apples ahead and put in a zip bag with a little lemon juice and they are good to go.
I realize that none of these things are hard to do. They all simply require a little prep work the night before to ensure all the items are within easy reach and that the utensils and appliances are out and ready to be used. It just takes a little planning on your part to satisfy the morning hunger of the entire family. Doing this simple task has created much needed harmony in our Lord's Day mornings. 
The goal here isn't fancy, it's about making decisions and preparing ahead of time so that on the morning of the Lord's Day you can set your minds on things above as you prepare to enter into the worship assembly.

Be sure to see all the posts in the Set Your Minds series.