Set Your Minds: Sanctification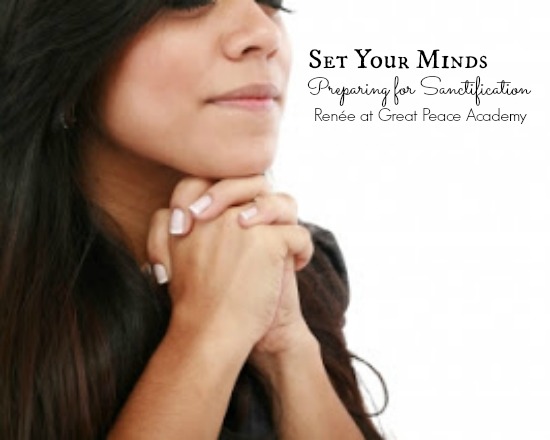 Preparing for Sanctification by Preparing  Your Hearts
As mom's we often are rushed on Sunday mornings. We have a lot to do getting a family ready, fed and out of the house in time for Bible class which can leave us feeling disconnected and without the proper frame of mind to go in to the Sacred Assembly to offer praise to our Father and Living God. So I am sharing a series of articles focusing on preparing our minds on things above; preparing our minds on service and praise to the Father.
This rushing around leaves us feeling disconnected, out of touch and hopelessly unprepared for worship. Yet, if we choose we can preparing for sanctification within our hearts by making early preparation in our homes.
A while ago, I purposed to make a change for my own life. Some weeks are easier than others, but my family and I are striving to walk in HIS way.
I've recently been studying about SANCTIFICATION. As I read through the Old scriptures it is so amazing how much prep work the priests and Levites did in order to prepare for the worship assemblies of old. As Christians we now hold the place of honor as priests. 
"But you are a chosen generation, a royal priesthood, a holy nation, His own special people, that you may proclaim the praises of Him who called you out of darkness into His marvelous light;" 1 Peter 2:9*.
Yet, are we taking for granted the freedom we have in Christ? Should we not prepare our minds the way that the priests of old prepared the lamb, the bulls and the goats. Should we not sanctify our hearts, cleanse our hearts, the way that the priests were to purify their body and clothing? Their worship was external while we are the very temple of the Living God. "Do you not know that you are the temple of God and that the Spirit of God dwells in you?" 1 Corinthians 3:16
Download Scripture Cards for the entire Set Your Mind Series.
You see, for we Christians, God dwells in our hearts. He desires that we seek Him first. We need to lay aside the outside, external thoughts and turn our hearts to Him, especially when we are called to the Holy Assembly to praise and worship Him.
"Then Samuel spoke to all the house of Israel, saying, "If you return to the Lord with all your hearts, then put away the foreign gods and the Ashtoreths from among you, and prepare your hearts for the Lord, and serve Him only; and He will deliver you from the hand of the Philistines." 1 Samuel 7:3
Preparing Your Clothing:
Since last week I explained the need for having your house straightened up by Saturday evening and making sure the laundry is folded and put away, I want to continue with that train of preparedness.

It's a simple thing really. I'm sure you've heard it before, especially related to preparing for school days or work days, so why not for the Lord's day? Set out clothes the night before, not just for your children but for yourself and your spouse as well.
As women we often either feel too rushed to feel put together or we agonize too long over what to wear. By making the decision the night before you free up the time it takes to make that decision in the morning. You make it simple for your husband and children to prepare themselves, when the guess work is taken away. Your are creating a simpler environment for preparing for worship.
Appropriate and Modest Preparations
Since I'm talking about dress here: I want to also talk about appropriate dress. I'm going to be honest here, because I try to be honest in everything I do.
I'm going to talk here about modesty.
"…that the women adorn themselves in modest apparel, with propriety and moderation, not with braided hair or gold or pearls or costly clothing, 10 but,  which is proper for women professing godliness, with good works." 1 Timothy 2:9-10.
Dear sisters, we have become too caught up in what the world thinks looks good. We focus far too much on what is "in" and not enough on what pleases the Lord.
Let's take a moment to examine the word, MODEST.
According to World English Dictionary**
modest — adj
1. having or expressing a humble opinion of oneself or one's accomplishments or abilities
2. reserved or shy: modest behaviour
3. not ostentatious or pretentious
4. not extreme or excessive; moderate
5. decorous or decent
I think that we as Christians have gotten too caught up in the modern day usage of the word modest which is often viewed as out of date and about covering up. I am not suggesting uncovering oneself. But rather, let's really look at those definitions. We are to be humble about our own opinions of self, to not be pretentious (pretenders), to not be extreme or excessive, to be moderate, to be decorous and decent, reserved and shy.
Are we dressing to seek that "You look nice today." complement? Are we putting on our most expensive so that we will be the center of attention? Or, are we dressing appropriately in a way so as to NOT draw attention to ourselves?
Are we dressing to fit in with the world's view of what is modern? Or, are we dressing to honor our Lord Jesus Christ? Are we dressing in a way which takes focus away from us or are we dressing in a way that brings focus to us?
Are we spending hours on curling, crimping, braiding or even straightening our hair but failing to seek the first thing which is the Kingdom of God?
It is entirely possible to be completely covered from head to toe and still attract undue attention to ourselves. By the same token, we can be entirely too uncovered and think we are fine because it's accepted in the modern world we live in.
Do we honor our brothers by keeping ourselves dressed with propriety or do we dress in a way that causes our brothers to have lust in his heart because we are showing our bodies in an inappropriate way? The true purpose of dress is to cover one's nakedness. We each must choose for ourselves what is and is not appropriate. Keep in mind that whatever we are to do, we are to do so as to the Lord, Colossians 3:23.
If you are raising teens and want to encourage them in modest dress, check out Marvelously Modest, written by Jayla.
So, Saturday evening as you choose this skirt or that dress, these shoes and that bag, ask yourself the question. "Do these things bring attention to me, or are they moderate, modest and godly?"

Be sure to visit all of the Set Your Mind Series:
* Scripture taken from the New King James Version®. Copyright © 1982 by Thomas Nelson. Used by permission. All rights reserved.
**The World English Dictionary reference is taken from www.dictionary.com.