As a busy mom, finding the time to prepare meals for your family can be challenging. However, with some quick and easy recipes, you can create delicious and nutritious meals in no time. These simple recipes require minimal prep time and are perfect for busy weeknights when you're short on time.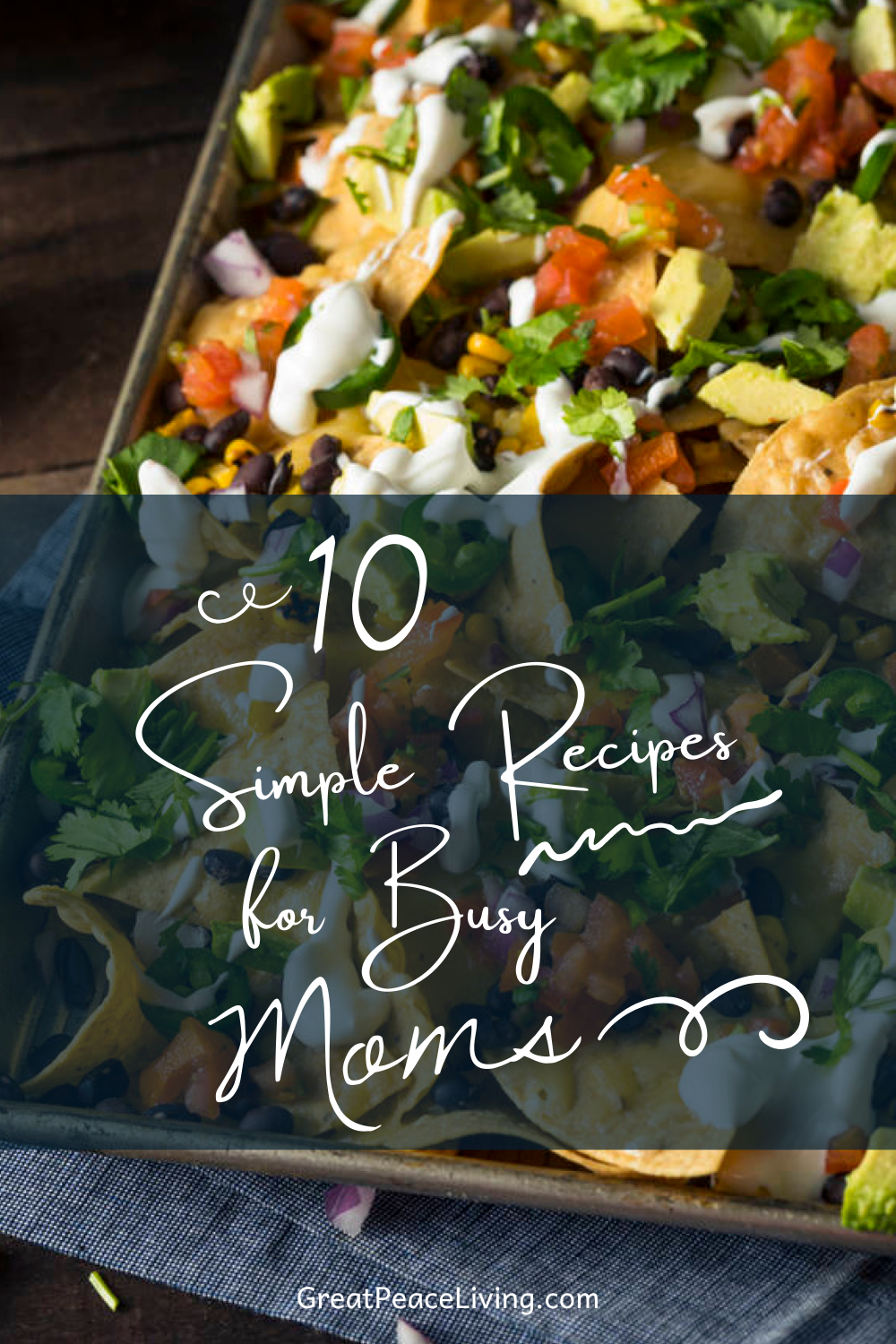 So whether you're looking for new meal ideas or just need some inspiration for quick and easy snacks, our list of simple recipes has got you covered. With ingredients that are easy to find and instructions that are simple to follow, you'll be able to create tasty meals in no time. Plus, many of these recipes are customizable, so you can add your own unique twist to make them your own.
And the best part… they don't really require a recipe! You can simply use the basic instructions to quickly whip up a meal and get your family fed.
Simple Recipes that Busy Mamas Can Make
One-Pot Pasta Soup: Cook pasta, drain then add add vegetables, and protein (like chicken or shrimp) in one pot with some broth. Season with salt, pepper, and your favorite herbs, (I like thyme, parsley and sage).
Sheet Pan Fajitas: Slice peppers, onions, wedges of tomatoes and chicken or beef and arrange them on a sheet pan. Season with fajita seasoning and roast in the oven.
Slow Cooker Chili: This takes a little prep. Start by browning the ground beef or turkey. Then add it along with canned tomatoes, kidney beans, and chili powder plus salt and pepper to a slow cooker. Cook on low for 6-8 hours. Prep this in the morning and it will be ready after a busy day of homeschooling or errands.
Baked Chicken Thighs: Season chicken thighs with salt, pepper, and your favorite herbs. Drizzle a little olive oil in the bottom of a baking dish, then add the thighs. Bake in the oven at 375°F for 30-35 minutes. Serve with a bagged salad or steamed broccoli and some dinner rolls.

Perdue Farms' Annual Freezer Filler Sale Event Sale 2023

Sheet Pan Nachos: Spread a layer of nacho chips on a sheet pan. Then add some seasoned crumbled ground beef (cooked), or sliced chicken, along with your favorite veggies (I like black beans and onions but you can add peppers, zucchini, or others), top cheese and salsa. Bake at 400 degrees for 3-5 minutes. When it comes out of the oven you can add sour cream, more cheese, diced tomatoes, lettuce or any other topping.
Stir Fry: Cook a bag of frozen diced vegetables, sliced chicken or beef, and a canned oriental sauce (or mix your own with 2 T. soy sauce, 1/4 C honey, and 2 tsp garlic powder plus 2 T minced garlic) in a wok or large skillet.
Bean Quesadillas: Spread refried beans and cheese on a tortilla, fold it in half, and cook in a skillet until the cheese is melted.
Grilled Cheese Sandwiches: Spread butter on bread, add sliced cheese, and grill in a skillet until the cheese is melted. Heat up a can of your favorite tomato soup for the perfect pairing.
English Muffin Pizzas: Spread tomato sauce and cheese on an English muffin, top with your favorite toppings, and broil in the oven for a few minutes.
Spaghetti and Meatballs: This classic dish is always a kid favorite. Just grab a bag of your favorite meatballs and place the needed portion into a sauce pan, then pour in a bottle of your favorite marinara sauce. I love fresh flavor of a tomato passata sauce, let it come to a simmer and cook until meatballs are heated thoroughly. Then, cook up some spaghetti until tender, drain, and cover with the meatball sauce. Sprinkle some parmeggiano regianno on top and enjoy.
Moms, I know how hectic life can get, but I hope these simple recipes have shown you that it's possible to whip up delicious and healthy meals for your family even on the busiest of days. Don't be afraid to experiment and add your own twist to these recipes!
So, if you're ready to make your life a little bit easier and a whole lot tastier, start by trying out one of the recipes from this post. And if you like what you see, share them with your friends and family who could use some simple recipe inspiration in their lives.
Remember, taking care of yourself and your family starts with what you put on the table. So, let's get cooking!