Spending time together as a family is extremely important. There is nothing more amazing than the bond and connection family members share. Sometimes though, we can have trouble finding the time to truly connect with one another. This is where these Summertime Outdoor Games for Family come in handy especially during the summer months.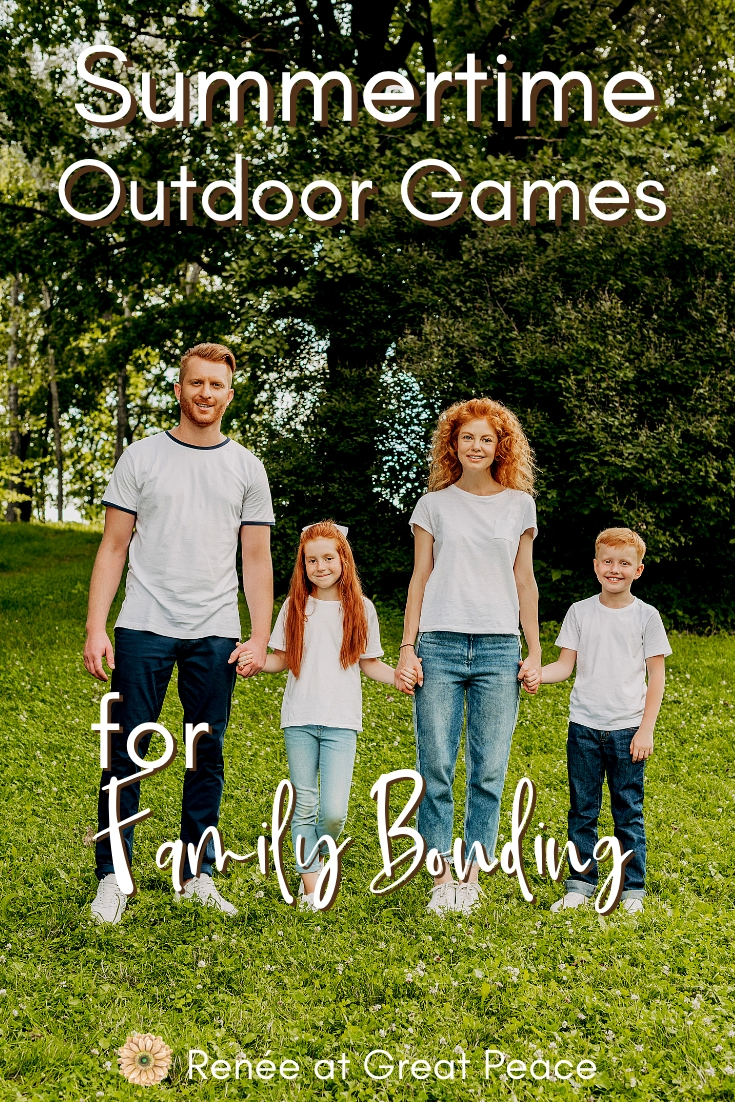 There always seems to be so much standing in the way of that special family connection. From extracurricular activities and work to school and meal planning, life can get busy.
No matter how busy it gets though, it is important to always make time to truly be together. Thankfully, there are several family bonding outdoor games that can make that time even more spectacular. 
This post contains affiliate advertisement links.
5 Summertime Outdoor Games for Family Bonding
1- Pickleball 
Pickleball is a great family bonding outdoor game to play. It is perfect for those who like to play a sport that has a lighter physical impact, on a smaller court.
Learn the rules of Pickleball.
This game combines quite a few different elements of different games. Games like ping pong, badminton, paddleball, and tennis all have some of the same components.  However, Pickleball uses a paddle rather than a racket.
2- Cornhole 
This classic lawn game is a fun one for family bonding. Players take a turn throwing bags like bean bags at a raised platform that has a hole in it.
The scoring depends on where the bag lands. If the bag lands on the board that is one point if it goes through the hole that is 3 points. Each person continues to play until someone reaches or goes over the score of 21. 
Many families make their own corn hole boards, or you can purchase them as well.
3- Disc Golf 
Similar to traditional golf, disc golf is played using a frisbee rather than balls and golf clubs.
https://www.amazon.com/Dynamic-Backpack-Capacity-Introductory-Lightweight/dp/B07S6SDFBV/ref=sr_1_1_sspa?keywords=disc+golf&qid=1562448628&s=gateway&sr=8-1-spons&psc=1
People who play disc golf aim for a basket. The object of the game is to finish all the holes (or baskets) in the fewest number of throws. This game is a great way to bond as a family in the great outdoors. 
Disc Golf courses have been installed at parks around the U.S. You can check with Disc Golf U to determine where the nearest course is to your home.
4- Water Balloon Dodgeball 
Not only is this fun take on dodgeball a great way to bond, but it is also a wonderful way to cool off during the hot summer months. Simply fill up a bunch of water balloons with water and divide into teams.
Divide the water balloons between the two different teams and play using traditional dodgeball rules. 
5- Ladder Ball
This simple game is easy enough for the whole family. It's played with teams of two and can be played on the lawn or driveway.
Earn points by tossing and landing bolas on the opponent's ladder rungs. Everyone will love this game that can be used for family time or neighborhood gatherings.
---
There are many fun family bonding outdoor games to choose from.
Not only will you be facilitating an amazing family relationship through the time you spend, but you will also have a lot of fun creating memories.
What are your favorite summertime outdoor games for family bonding? Tell me in the comment area below.
More Summertime Family Fun Games
Want More Family Bonding Ideas?