Music is quite important in our homeschool. My young man loves music and he's played piano for 10 years and excels in his lessons. But, over the last couple of years he's been asking to learn another instrument. Specifically he wanted to learn to play a stringed instrument. I decided to let him try guitar and discovered an incredibly easy way to teach guitar in homeschool without even having to leave the house. 
No, I'm no guitar player. In fact, I learned to play flute in high school, but really never did very well in my lessons. So, how was I going to teach guitar in homeschool without having to head out for yet another weekly lesson?
This post contains affiliate advertisement links. 
Teach Guitar in Homeschool with Gentle Guitar
Actually, I've known about Gentle Guitar for a while. But, I hadn't really looked into it because he was so focused on piano I wasn't sure it was a right fit. With him asking for a new instrument though I decided to check it out and see if it would be right for him.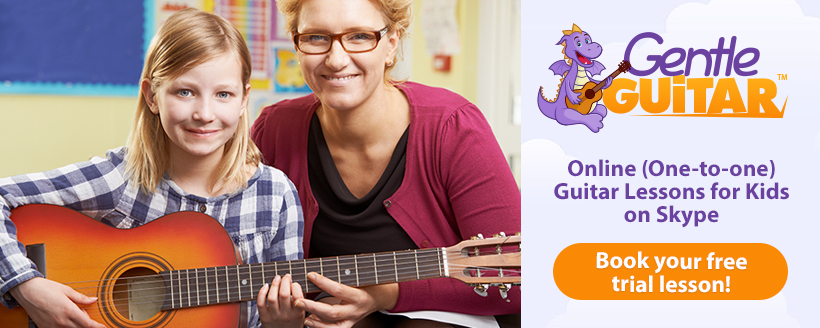 Gentle Guitars offers a free lesson to any homeschooling family so that's what I decided to try first. I mean, who wants to invest a lot of money into lessons if your child doesn't want to stick with it? Am I right? 
Gentle Guitar is designed to teach, one on one, through Skype based learning. The weekly lessons are 30 minutes long just like if you were to go to a local music studio or private teacher's home. 
How Gentle Guitar Lessons Work
It's a 4-year guitar and music theory curriculum with seven levels. That means it's comprehensive. The student will learn to read music and be able to apply that music knowledge in other areas of life. It helps when doing music appreciation to understand the dynamics and rhythm of any piece of music. 
The program progresses with the student. Since my son already can read music fluently he'll progress quicker than a true beginner who needs to learn the basics of music. That said, he has to learn the string fingering, and music markings just like everyone else. So he'll start with simple songs the same as any other new to guitar student would. 
My first goal was to get him a guitar. I mean, you can't learn an instrument without an instrument. So, I borrowed a guitar from a friend. This gives us a chance to try the lessons without the financial commitment of an instrument purchase. 
I booked our free lesson online which was a super simple set up. Just click the Book A Free Trial Lesson button and select the time that works best for your family. You'll enter your information and you'll get an email confirmation with the date and time and instructions for connecting your Skype to the teacher. 
When it's time for your free lesson, login to Skype and wait for the teacher to connect with you. 
It's that simple. The teacher will determine the student's skill level and then begin their lesson. 
It was so easy! I was so impressed with how Inga was able to relate to Jonathan. She made him feel at ease and was super encouraging. She gave him a quick introduction and had him playing a simple song by the end of the lesson. 
Available Gentle Guitar Lessons
Lessons for ages 5-8
Lessons for ages 9-12
Lessons for 13 through teen
Lessons for Homeschool
Modern & Classical Guitar
The big question… How much do the weekly Gentle Guitar lessons cost?
The ongoing cost of weekly tuition is between $25 and $35 per one-on-one lesson. As a mom who has paid for weekly music lessons for 10 years let me tell you. That's right on track for one-on-one 30 minute lessons. Since there are several options for age level as well as study focus the price varies depending on the choices you make. 
My son LOVED his free lesson and wants to continue. He adapted to the guitar quickly and I have little doubt he'll be able to learn to play the guitar. 
Our next step is to buy him a guitar and schedule his lessons after the summer break. 
I know the school year is coming to an end for most of you but don't let that stop you from booking your FREE trial lesson today! Actually, summer is a great time to give a new instrument a try. 
So click over to Gentle Guitar and book your lesson today. 

Get these Music Accessories for your Guitar Player
Personalized Fingerprint Guitar Pick
Don't Miss These Posts