Just because it's winter that doesn't mean that you can't do an complete winter nature study. Winter is the absolute best time to learn about the science of snowflakes. 
Snowflakes are really snow crystals. Snow crystals form when water vapor in the air freeze before the water vapor converts back to water droplets. This process is called deposition. 
Deposition: a thermodynamic process, a phase transition in which gas transforms into solid without passing through the liquid phase.
This post contains affiliate advertisement links.
A Science of Snowflakes Unit Study
At first the tiny vapor forms a simple hexagonal crystal. As it falls each corner of the hexagon continues to grow more crystals from the surrounding water vapors. It develops in an outward spiral forming a 6-branched flake. Each flake is symmetrical in appearance, however the branches themselves may be asymmetrical. 
Because of the changes in crystal formation, and the flake being affected by varying temperatures, and other environmental factors, no two snow crystals are alike.
Thus, no two snowflakes are alike. But, all snowflakes have six branches!
10 Resources for Studying about the Science of Snowflakes
Snowflake science as part of the water cycle
While the science snowflakes is fascinating it's best to understand that snow is part of the water cycle. Discover more about the water cycle with these resources.
The History of Snow Science
The First Man to Study Snowflakes
In the 1885 a man by the name of Wilson Bentley photographed a single snowflake for the very first time. 
Using a piece of black felt and a feather he caught a single falling flake. He laid the flake on a the piece of felt and using a microscope that he had adapted to fit with a bellows camera he was able to capture for the first time the tiny flake. 
This man was a self-educated farmer. But, his work quickly became a world phenomenon. He pioneered the field of study known as photomicrography. Essentially, he developed the first microscopic camera. 
He spent years studying tiny snowflakes and over his lifetime he photographed more than 5000 flakes. 
What he discovered was that "no two snowflakes are alike." He also discovered that snowflakes are actually snow crystals. 
Wilson A. Bentley lived in a small rural town of Jericho, Vermont which is where he made his discoveries. He was born in 1865 and died in 1931. But his amazing work has been archived by The Smithsonian Institute and is available for public study in the public domain.
Learn more about Wilson Bentley at the official site: Snowflake Bentley or study his life and biography on his Wikipedia page, The Science Behind Snowflakes.
Also, be sure to read this article, The Man Who Discovered the Secret Lives of Snowflakes at The Washington Post.
Read More about Bentley's Snow Crystal Studies
Amazon Books to Link to (Swap out link with your own affiliate link).
The science of snowflakes is fascinating! Who knew those tiny little flakes falling from the sky are really complex crystals of collected water gases? It really is amazing when you think about it. 
Snow in Literature
One of the most well-known snow poems was penned by Robert Frost in 1922. A year later it was published in his 4th collection of poetry, New Hampshire: A Poem With Notes and Grace Notes. The work won him his first Pulitzer Prize in 1931. 
With the opening of the 2018 Public Domain works, Frost's Stopping in Woods on a Snowy Evening is now in the Public Domain. Which means, I can publish it below, and we can utilize it in copywork, and studies in our homeschools without worrying about obtaining permission. 
---
Stopping by Woods on a Snowy Evening. – Robert Frost, 1923
Whose woods these are I think I know.

His house is in the village though;

He will not see me stopping here

To watch his woods fill up with snow.

My little horse must think it queer

To stop without a farmhouse near

Between the woods and frozen lake

The darkest evening of the year.

He gives his harness bells a shake

To ask if there is some mistake.

The only other sound's the sweep

Of easy wind and downy flake.

The woods are lovely, dark and deep,

But I have promises to keep,

And miles to go before I sleep,

And miles to go before I sleep.
Listen as the author recites his own poem. 
This is an excellent poem for kids of all ages to study and memorize. I created these copywork printables for you to use at home with your students. 
Stopping in Wood on a Snowy Evening Copywork
Download a FREE Copy of my Stopping in Woods on a Snowy Evening copywork pages.
The Science of Snowflakes in Math
Snow science is a great time to talk math. Because every snow crystal begins with a hexagon you can do a simple geometric study of the hexagon. 
How to Draw a perfect Hexagon
Materials Needed:
Paper
Compass with pencil
Pencil
Ruler
Eraser
Step one: Use ruler to draw a straight horizontal line.
Step two: Using the compass to draw a circle. 
Step three: Reverse the compass point to the edge of the circle and draw one half circle with the edge of the half circle in the center of the full circle. 
Step four: Repeat the half circle process on the opposite side of the full circle.
Step five: Using the ruler, connect the points.
Step six: Erase the pencil marks for the circle, half circle and center straight line.
Hexaflexagons
Dive a bit deeper into the study of hexagons with this Hexaflexagons video. It's so fascinating and your kids are going to love giving it a try. See more of these fascinating hexaflexagon videos here. Khan Academy.
The Science of Snowflakes and The Arts
Snow Art with Chalk Pastels
Winter is a really good time to explore art because, often, you find yourself cooped up in the house. Art is a good way to keep the kids active but interested in learning at the same time.
This simple snowman is easy to do with chalk pastels! Watch as Nana from ChalkPastel.com gives a tutorial.
Winter art is so simple with chalk pastels. Check out this course for more winter time art fun.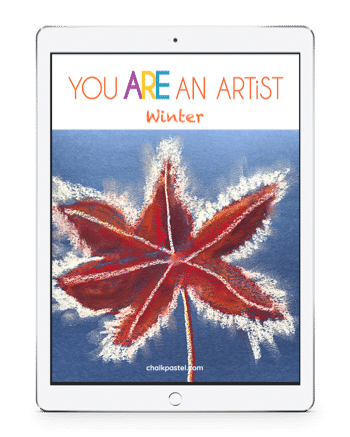 Snowflake Art with Photography Exploration
Another great way to explore the art of snowflakes is through photography. On a snowy day, set out a piece of black felt, just like Wilson Bentley. When you've captured a few snowflakes on the felt. Use a good quality camera, or even your cell phone camera and take an up close photo of the flake. You can even explore shooting photos through magnifying glasses to see if you can get a better magnification!
Snowflake Study with Music
It might seem impossible! But, it's not. Winter snow has a unique, quiet sound. Have you ever stood outside, especially in the woods, on a snowy winter day and simply listened?
There is something magical and unique. At first the quiet envelops you and everything sounds soft. Then, almost inexplicably, you can hear the tiniest of sounds as flakes, snow crystals, land on ice, branches, or as trees shake in the breezes. It's truly incredible.
If you live in a snowy region I urge you to spend some time exploring the music, the sounds of nature, as it's snowing.
In the meantime, you can listen to this collection of music from Ambient Worlds on YouTube is based upon the Chronicles of Narnia, it's called:
Chronicles of Narnia | Winter Woods Music & Ambience – Relaxing Music with Sounds of Winter.
---
The Science of Snowflakes is a Fascinating study
The Science of Snowflakes is such a fun and fascinating exploration. I hope your family will enjoy exploring snowflakes and the science behind them. Tell, me do you love snow? If so, what's your favorite thing about it?
Love this unit study? Be sure to pin it for easy reference.
Don't Miss These
---
Animation Credit: Aldoaldoz [CC BY-SA 3.0] via Wikimedia Commons