This Week…

Monday was a school day here at the Academy. .

Literature: The Golden Goblet
We read all of chapter four. Ranofer has decided to confide in his new friend Heqet. The two of them decide that Heqet can tell to the goldsmith Rekh what has been happening with the gold. The devise a plan that will allow for Ranofer to be left out of the loop. But before they can make the plan work Ibni presents Ranofer with another wineskin to give to Gebu. Ranofer, afraid of Gebu's terrible fists, takes him the wineskin. Gebu surprises Ranofer with some copper coins for which he will gladly buy himself some food.



Science:



This was a fun science day. Little Man got a chance to see how the contoured feathers on a bird work in the air. He took an umbrella outside and while it was open ran across the yard. He discovered that the contoured shape of the umbrella was perfect for lifting up the air. 
We then filled the feeders. We added 2 different kinds of seed, splitting the feeder in half. The goal is to see which type of seed the birds prefer.
After that, we did an experiment with feathers to see how the oil glands on a bird help them. He started with 2 feathers. First, he gently brushed some oil onto one of the feathers, but did not add oil to the second feather. He then dipped each feather into a glass of water. As you can see, the oiled feather pretty much remained intact while the other one crushed under the weight of the water. This helped him to see that the oil glands, help the birds to be able to fly while it is raining or wet outside. 

Spelling:
Little Man finished Lesson 16 of his 5th grade spelling book. I am still not sure this is the right move, but I am going to stick with it.

Tuesday was a planning day for an event that I along with some other homeschooling families are working on. Afterward, one of the families and myself and Little Man went for lunch together. Their son Evan, is a good role model for Little Man. He likes to play with him and is rough and tumble with him. They laugh together and it makes my heart smile.

Wednesday and the rest of this holiday week was free from school work. Little Man and his dad spent some quality father/son time on Wednesday while this momma went to lunch with her friend Ms. Joyce. It was nice getting to sit and talk without interruption.

It's Thanksgiving week. I love Thanksgiving. In my younger days I hosted both of our families for this holiday. But time changes things. Families move further and further distances from each other, jobs change and life requires differences. I miss my parents. I have a sorrowful heart that they spent this holiday just the two of them, but I am thankful that they still have each other after 56 years together. I called them and caught up over the phone. I do wish I could go home, as their home will always be my home.

This year we spent the Thanksgiving Holiday with our friends the Perkins' who have become family to us. They are gracious and kind, hospitable and gentle in all of their ways. Their Little One is like a brother to our Little Man, and their Tiny Friend, like a sister to both of them. The company was a beautiful mix of kindness, goodness and love.

Beloved is working 2 freelance jobs out of town, for which he will spend the night out of town also. I'm spending the weekend doing some much needed deep cleaning in the house. 
Friday's project was Little Man's Bedroom. He's no longer a toddler and some of the decorative items needed updating. I went with a Map Theme. He thinks it's like a whole new room, and keeps telling me he loves it. I think it's pretty cool myself, and the best part is I used items from around the house so the project didn't cost me a thing.  



_____________________________________________________
30 Days to Give Thanks: Day 24
I'm thankful for simple things. I'm thankful that the Lord blessed me with things in my household that help me to provide a warm comfortable home for my family. I'm thankful for pillows and quilts that comfort us and keep us warm. I'm thankful that all I needed to do was look around the house for a few things to update Little Man's bedroom with. I'm thankful that he likes simple things like maps, over the latest and greatest gadgets. I love that something simple like a meal at a friends home can fill my heart with joy and love. I'm thankful for toothbrushes and vitamins. I'm thankful for hot cups of tea when the wind is blowing cold. I'm thankful for simple things, everyday things, that I know have blessed my life immensely. I'm thankful to the Father who is gracious to bless me with simple things.

Psalm 131:1
 LORD, my heart is not haughty, Nor my eyes lofty. Neither do I concern myself with great matters, Nor with things too profound for me.

Most gracious Lord, I thank you for simple things. I thank you for pillows and blankets. I thank you for tea and coffee; I thank you for friends and family. I thank you for maps and books and lamps that have brought joy to my son's heart. I thank you for toothbrushes and paste, toilet paper, towels and soap. I thank you for water abundant from the rain. I thank you for pencils and paper and computers too. I thank you for you are rich in your mercy. I thank you Lord for simple things, that when brought together fill our home our life with comfort, warmth and grace. Through your blessed Son I pray.


Just one more week on this journey of Giving Thanks. Won't you join my co-host Davonne and myself as we close out the month with thankful hearts.




Just add your link to the Inlinkz Tool below, grab the button, add it to your page and let us know what you are thankful for.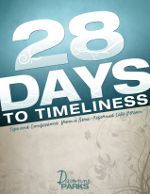 And Don't Forget, Davonne is offering two 75 % off Coupon Codes for her e-book to all participants of this Link Up. You must Link your blog to the Link Up's direct link and you must list your Thanksgivings in your link, to qualify. Links without thanksgivings will not qualitfy.



Disclaimer: 28 Days to Timeliness is an affiliate and I may receive compensation for purchases made through my site