As a keeper of the home, I'm always looking for a good deal and ways to save money. I wouldn't say that I'm cheap, but I do try to be frugal when making purchases for my family. I try to be a good steward of the income that both my husband and I bring into our home, and the blessings we receive.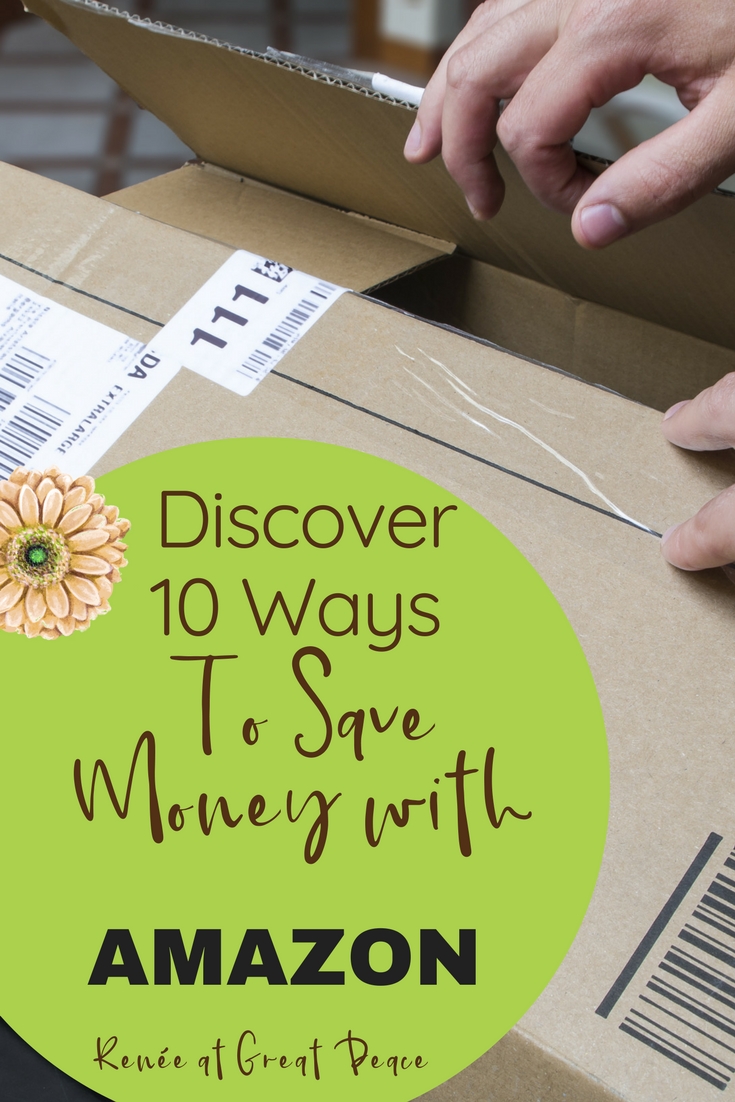 It isn't always easy. Especially when shopping at the local grocery. Sometimes, waiting for a sale can leave your pantry looking quite bare. But, saving money doesn't have to be burdensome. You can find good deals any day of the week whether you are shopping at the corner store, or the mega store. 
Then again, when you can find awesome deals, without leaving home and have it delivered right to your doorstep… that's even better! 
This post contains affiliate links to 3rd party sites where products and services purchased may result in paid compensation for this blogger. 
Save Money With Deals from Amazon
1. Amazon's Daily Deals
Every day Amazon loads deals on their site. Often they countdown for 24 hour deals to just a few hours, but if you check the Today's Deals section on the Amazon regularly you'll discover some fantastic savings.  Sometimes you'll discover open box deals, returned items, and used items. Whenever you stop in at Amazon, be sure to click Today's Deals first because you might just find the one thing you're going there to find inside those daily deals. 
2. Subscribe & Save
If you find that you are ordering the same items again and again, try the Amazon Subscribe & Save program. When you subscribe you can set up a regular schedule which automatically ships the items you choose. Here's the bonus, you get free shipping and a discount on those items.
With Subscribe & Save, you can have your favorite items delivered to your door once a month.
Set 

your quantity & schedule on eligible items.

Choose how often you want to receive the items.

Select the date you want to start.

Enjoy free shipping and discounts on your subscription(s).

Cancel anytime.
Because of the cancel at any time policy, you can sign up for Subscribe and Save, receive one shipment of the subscription items at the reduced price, and then cancel your subscription. 
3. Clip & Save with Amazon Coupons
Did you know that Amazon has a coupon program that allows you to digitally clip a manufacturers coupon, attach it to your account, and when you shop for that item, the coupon automatically gets attached to the sale price? Isn't that so cool? 
I utilize this feature when I'm ordering groceries, office supplies, or household goods via Prime Pantry.
4. Join Amazon Prime
It might seem counter intuitive to become a paid customer. Honestly, I struggled with that too. Then I discovered Prime shipping, video, and Prime Day, just to name a few benefits of being a Prime Member. 
When you utilize the resources available exclusively to Prime Members, you'll realize that you will save far more than the cost of the membership. It's totally worth it and isn't really any different than grabbing a membership to your local member's only box store.
5. Prime Day
(TODAY, July 11th, IS  PRIME DAY!) 
On Prime Day, members get exclusive limited time deals across Amazon. From groceries, to baby care products, household goods, clothing, electronics and so much more you'll squeal with delight when you discover Instapots for $89, or an adorable maxi skirt for just $10.
You'll find deep discounts on Kindle Unlimited memberships, giving you access to books all year long. Sign up for a 6, 12, or 24 month membership to keep you and your kids reading. These discounts are exclusive to Prime Day so grab it while you can. 
You can get 4 months of Music Unlimited for $0.99! Today only during Prime Day. Normally this price is $7.99 a month. 
Save 40% on Amazon's Home Services, schedule a house cleaning, book a handy man, get your carpets cleaned, or your cell phone repaired. With Amazon's Home Services, they will book a local service tech to come to your home, provide you with quality service support, and all the payment is managed through Amazon. Plus with today's Prime Day discount… you'll save cash. 
6. Amazon Family
This feature is included with your Prime membership. Once you are a member, you can set up your Prime Family Household adult and children profiles. Don't worry you're just telling Amazon about the ages, and likes, and what you order for family members. This way you get exclusive deals tailored to the needs of your family. 
Enjoy Deals Such As:
20% off diapers subscriptions
15% off eligible products from your baby registry

30-minute early access to Amazon Lightning Deals with Prime Early Access

Unlimited storage for photos with Prime Photos

Earn 2% rewards every time you reload your Amazon.com Gift Card Balance with your checking account
7. Amazon Warehouse Deals
Sometimes people purchase items from Amazon, receive them, open them and use them. Then for some reason they choose to return them. That leaves Amazon with a perfectly good item that can't be sold as new. That's where Warehouse Deals come in. You'll discover amazing deals on gently used or refurbished items. 
Some Warehouse Deals Categories
Televisions, Cell phones, and other fabulous electronics
Video games, movies, and books
Kitchenware, houseware, or lawncare
Toys and games
8. Amazon Outlet
Are you a bargain shopper? Do you love a great deal? With Amazon Outlet you can shop online and find low prices on markdowns and overstocks. You'll discover outlet categories such as electronics, accessories, clothing, kitchen gadgets, and more. These outlet deals are available all year round, you just have to go to the outlet center on Amazon in order to find them.
9. Prime Student
Have a child in or entering college? They are eligible for Prime Student. They'll get 6 months of Prime for Free, at the end of the free subscription, they'll be upgraded to an Amazon Prime membership for 50% less than a standard Prime membership. That means they will get all the benefits of Prime, 2 day free shipping, exclusive discounts and more, for 6 months free, and then half the cost. 
With Amazon's Used Text Books you can save hundreds on collegiate books when your students are heading back to school. 
10. No Rush Shipping
With Prime you get Free 2-Day shipping on eligible items. But, what if you don't necessarily need that roll of paper towels in 2 days? What if instead you choose another free shipping option and get your item a few days later? If you do that, Amazon rewards YOU.  If you choose No Rush Shipping when you checkout, you will either earn rewards on future purchases or receive discounts immediately, simply for agreeing to receive your order in 6 business days rather than 2.
I'd love to hear from you! What's your favorite thing about Amazon? What deals do you know about that I haven't shared? Tell me your Amazon secrets in the comments below. 
You May Also Enjoy